Cabinet Secretary Visits Scottish Water Control Centre
31 March 2022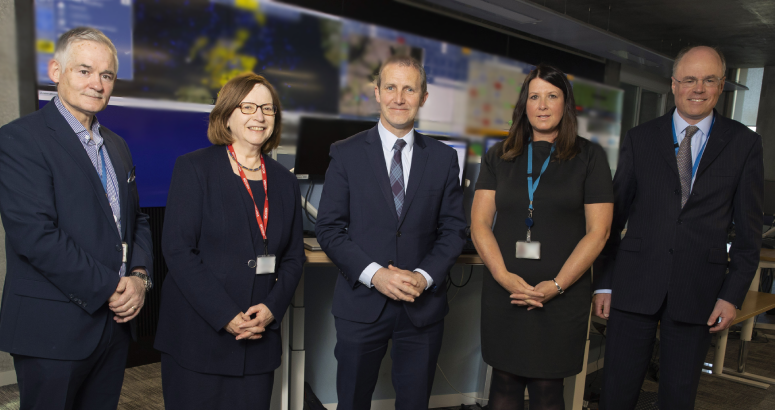 Tour of Scottish Water's Intelligent Control Centre
Pictured from left to right: Peter Farrer, Dame Susan Rice, Michael Matheson, Sharon Hamilton and Douglas Millican.
"The ICC will become even more important in future to ensure that vital services can be monitored and maintained in the face of challenges caused by a rapidly-changing climate."

Michael Matheson
Scotland's Cabinet Secretary for Net Zero, Energy and Transport
Scotland's Cabinet Secretary for Net Zero, Energy and Transport visited the high-tech hub which watches over the country's vast water and waste water networks.
Michael Matheson toured Scottish Water's Intelligent Control Centre (ICC) to see first-hand how technology is helping maintain services in the face of changing weather resulting from climate change.
During winter storms, our customers were largely protected from outages caused by power failures thanks to the vital role the ICC plays in supporting our field teams deliver service to domestic customers and businesses across the length and breadth of Scotland.
Serving 5 million customers and 2.6 million households, the country uses 1.5 billion litres of water a day and Scottish Water treats more than a billion litres of waste water daily.
It is responsible for a massive network of above-ground and underground assets which allows water to flow to taps and waste water to be removed from properties.
Scottish Water provides a vital public service which is critical to daily life and any disruption to customers – including vulnerable customers – is a priority.
Mr Matheson met Scottish Water's Chief Executive Douglas Millican, Chief Operating Officer Peter Farrer, its Chair Dame Susan Rice, and Sharon Hamilton, the ICC manager, during his visit to the centre in our offices near Glasgow.
Mr Millican said: "Over the past 20 years that Scottish Water has been responsible for delivering the country's water services, there has been a revolution in how we monitor and manage Scotland's water requirements.
"The use of, and investment in, technology increasingly enables us to provide ever more resilient water and waste water services and enables us to anticipate and forecast issues and, when any disruption does occur, helps us ensure we can return to normal as quickly as possible. Recent winter storms have shown how a smart, swift customer-focused response can support communities' return to normality after adverse events.
"With aging infrastructure, increasingly challenging weather patterns which impact our networks and customers at the heart of what we do, the ICC and the people in it connect right across our organisation to ensure communities can rely on us around the clock, whatever the weather."
Sharon Hamilton, Scottish Water's ICC Manager, said: "The ICC team are a key operational team within Scottish Water. Providing a 24/7/365 service, monitoring our assets to understand risk to ensure we protect Public Health, the Environment and our people and deliver the best possible service to our customers. They liaise directly with a range of Scottish Water staff both during and outwith core working hours to ensure the appropriateness of the business response to areas of potential service impact.
"The team utilise a range of business systems developed to protect and enhance the customer experience including telemetry data from assets, logger data from our networks, security systems and supporting knowledge management systems.
"In addition, the team use a range of tools developed to ensure they understand key areas of service impact associated with factors like weather conditions to ensure areas that result in significant business impact are well understood."
She added: "The future evolution of our ICC is a critical enabler of Scottish Water's future transformation and the achievement of Scottish Water's Strategic Ambitions."
Mr Matheson said: "Scottish Water's extensive water and sewerage networks provide an impressive level of coverage across the country, and I am reassured that Scottish Water will continue to react quickly to any unforeseen issues on its networks.
"The ICC will become even more important in future to ensure that vital services can be monitored and maintained in the face of challenges caused by a rapidly-changing climate."