Whiteadder Sports Centre Gets New Lease of Life
12 April 2022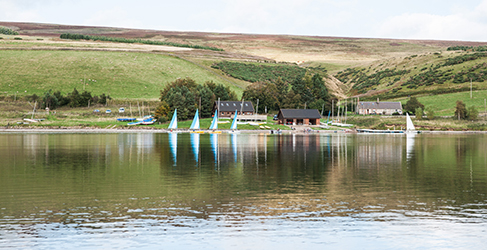 The watersports centre is re-opening after four years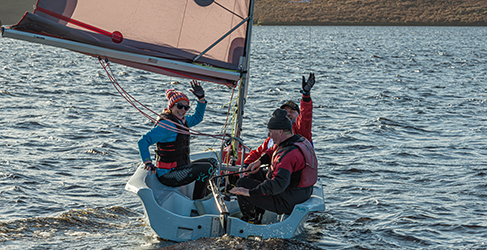 The centre is run by a locally based community group
Whiteadder Watersports Centre, situated between Duns and Gifford has been granted a new lease of life by Scottish Water and Scottish Borders Council, bringing water sports back to the reservoir after four years.
Following a competitive bidding process, the centre, which was previously operated by Scottish Borders Council, has been sublet and reopened by Whiteadder Watersports Trust, a specially formed not for profit Charitable Trust.
The centre offers sailing, supported swimming sessions, stand up paddleboards and sit on kayaks as well as fly-fishing between April and September. The centre opened in August 2021 for the final few months of the season and received a great response from the public with stand up paddle boarding and fly fishing lessons for young people being a particular success. The centre has recently reopened for the 2022 season and bookings are filling up.
Trustees, John Hall, Jim Finlay, Mike Roberston and Max Blinkhorn, with the Chief Instructor Andrea Davison are local water sports enthusiasts and have a long history of teaching sailing at the reservoir. Their aim is to encourage people of all ages and abilities to participate in a wide range of water sports.
The centre is located on the north bank of Whiteadder Reservoir on the B6355. The Reservoir is used by Scottish Water to supply around 40,000 customers with 24million litres of water every day.
Archie Macgregor, Land and Development Manager at Scottish Water, said; "Working with Scottish Borders Council on securing the future of the water sports centre has been fantastic.
"Whiteadder Reservoir is still used for public supply and while water sports would normally be discouraged, Scottish Water and Scottish Borders Council hope that the centre will become a destination for people across the region to come and enjoy the water while being supervised. We are particularly happy that it is a locally based community group that is operating the centre."
Chairperson of the Trust, John Hall said "The Centre was built with public money so it's right it that it runs as a charitable trust rather than on a commercial basis. I was involved in the Centre being set up under Scottish Borders Council several years ago and it's great to see it up and running again! A variety of afterschool sessions for children are offered and fly-fishing lessons for young people have been a great success and youth groups including Cubs and Beyond Earlston have had some great sessions."
Max Blinkhorn, the trust's retiring treasurer said "it's been a marathon to get to where we are today. There were many hurdles both legal and regulatory to clear but the team stuck with it and started providing activities in August last year. Over winter we have been laying plans for the season starting in March and are hoping for a seven-day opening in 2022.
Andrea Davison, Chief Instructor for sailing said "Our activities are run under the Adventure Activities Licensing Authority and the Royal Yachting Association with an emphasis on younger people. We had well over 100 people through the door in the short time we open in 2021 and expect numbers to exceed 1,000 in 2022"
Swim manager Jim Finlay said "We are planning to restart our regular group swimming on Saturday and Sunday mornings. Our special 'full moon swim" last September was very popular and we plan to run more of those". Local community funds and charitable organisations helped the centre with donations and Duns Co-Op and Boyd Tunnock who helped with the St. Abbs Lifeboat station rescue also contributed. Activities will continue from late March through to October and we hope to run some winter events 2022/23."
The Centre is open seasonally and more information about where it is and what it offers can be found at: Whiteadder Watersports