Local School Childen Have a 'Hoot' with Scottish Water
22 March 2018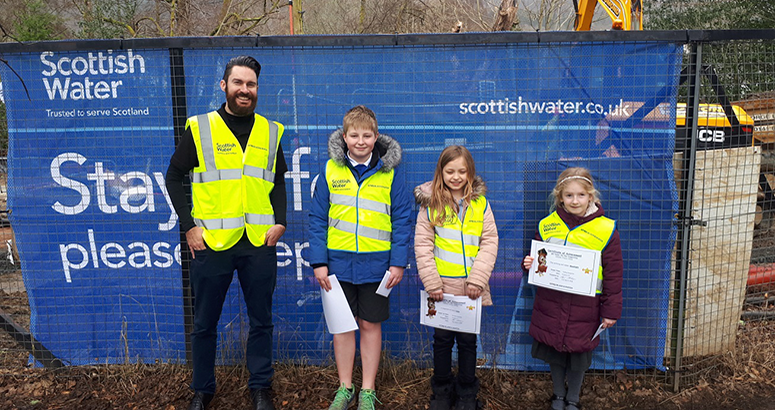 School's Tree Legacy
Winning Callander school pupils who named Trees4Scotland's carved wooden owl 'Moonlight'. It was made from tree removed from Scottish Water project site.
The pupils of Callander Primary School were thrilled with the unveiling of a wood carved owl which was presented to the school on Wednesday 21st March 2018.

Scottish Water's alliance partners, amey, Black and Veatch (aBV) first visited the school back in December to speak about planned work at a nearby Scottish Water pumping station. They also gave pupils a talk about Health and Safety before the work started and engineering job roles in the water industry.

Work commenced by aBV and contractors George Leslie near the school in January and is expected to be completed at the start of April. It involves upgrades to a pumping station with the installation of modern, more efficient pumps.

To enable the work to take place, it was necessary to remove a tree from the site. James Elliott from 'Trees4Scotland' carved an owl from the tree's trunk and pupils were set the challenge of naming the creation.

aBV staff returned to the school on Wednesday to announce the winners of the competition.

Aisling Dempster (P1/2) was announced as the overall winner with the name "Moonlight".

Sam Isgrove (P6) and Brooke Cumming (P4) - who suggested the names "Roddy" and "Luna" respectively - were runners-up.

Moonlight will now take pride of place in the school grounds along with a commemorative plaque, leaving behind a lasting legacy of the work that was carried out.

Speaking about working with the school pupils, Paul Milligan, aBV Communications Manager, said: "It's been great to see the pupils so enthusiastic about our work and we hope that we've sparked their interest in engineering. They were really keen to participate and very creative with their suggestions. We think that Moonlight is a perfect name for the carving!"

Headteacher Tanya Starkey, Callander Primary School, said: "As part of our Developing the Young Workforce approaches the children have really enjoyed hearing about the work that the engineers are doing at the pumping station and have been able to identify the different skills required to become engineers in the future. It was great for them to learn about health and safety and actually go on a site visit to see the work in action.

"Moonlight is a very welcome addition to our school and we'd like to thank Scottish Water and amey Black and Veatch for involving us in this project."

The site team will return in the springtime to complete the final reinstatement and reseeding of the playing fields.