Blog: My Kind of Water - Jennifer Reoch
22 March 2019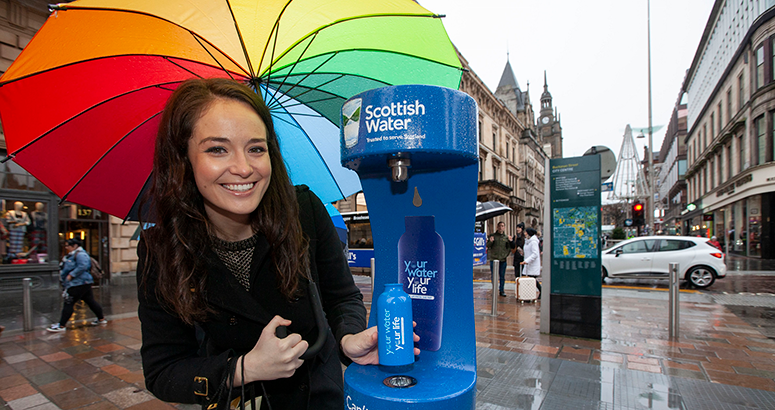 Top up Tap
Jennifer Reoch at the launch of the Top up Tap on Buchanan Street, Glasgow
"Quids in, fully hydrated, and doing your bit for the environment. What's not to love about that. "

Jennifer Reoch 
TV presenter and avid Scottish Water drinker
We all know it - Scottish Water is among the best in the world.
It's clean, fresh and there is plenty of it however, it's far too easy to take for granted and we sometimes forget how lucky we are that this vital resource flows from our taps day in, day out.
I know I couldn't do without it because whatever I'm doing, whether out working, in the gym or playing sport, my water bottle is never far from me.
Not only is it the best thirst quencher around, but hydrating helps keep my skin bright and helps boosts the body and mind.
I got involved with Scottish Water's Your Water Your Life campaign as I believe it's a no brainer to widen the number of places people can access water when they're out and about. Especially when we can count on our water quality being so high.
In the same way restaurants now offer water to diners, so too should we be encouraging a culture where people can stop and ask for their bottles to be topped up at bars, restaurants and cafes.
More people topping up, means less plastic and less waste. Which, let's face it, can only be a good thing for everyone!
I'm sure the striking blue Top up Taps, which will be popping up across the country over the next couple of years, will quickly become familiar sights on our high streets.
I hope their introduction will encourage people to dig out the water bottle they have lurking in the kitchen cupboard (we all have one of them don't we?) and make the most of them.
Quids in, fully hydrated, and doing your bit for the environment. What's not to love about that. I certainly know I won't be parting with my reusable bottle anytime soon.
For more information on Your Water Your Life,
visit the campaign website
Follow us on facebook
@YourWaterYourLifeSW
Get the latest news on our
Top up Taps