Scottish Water Employees Saddle Up for Charity
22 June 2018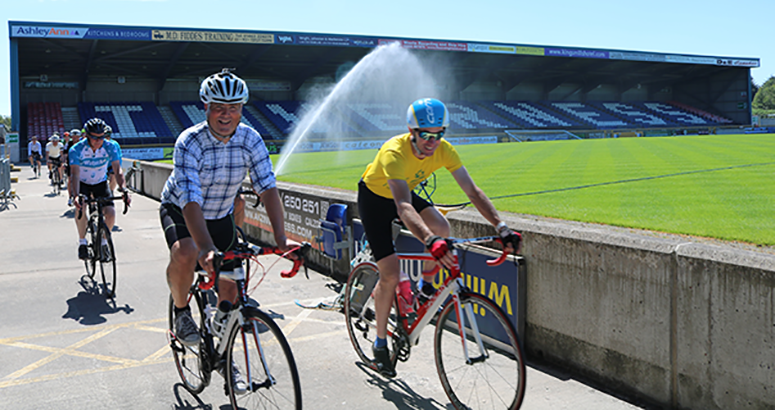 Employees Head Off on Charity Cycle
Cyclists will complete their epic 500 mile Highland trip in just 48 hours to raise cash for WaterAid.
A group of 23 Scottish Water employees are saddling up to raise money for charity, tackling an epic 500-mile cycle around the Highlands.
The challenge will see the cyclists complete the route in just 48 hours, setting off from the Caledonian Stadium in Inverness and taking in Lairg, Helmsdale, Durness, Achmelvich, Ullapool and Applecross, before heading back to Inverness via Muir of Ord.
Starting on the 28th June they will cycle through the day and night in groups of at least two at a time, splitting the route into relay sections of approximately 15 miles, including the iconic but gruelling Bealach na Ba road.
Each rider will complete at least four relay sections but can choose to cycle as many as they choose.
Now in its fourth year, the challenge has seen £15,000 raised for charity so far, with the fundraising target for this year set at £3,000 to be split between WaterAid and Highland Hospice.
Scottish Water Networks Analyst Brian Barbour has taken part in all the previous cycles, each of which has covered a variation on the North Coast 500 route.
He said: "I've really enjoyed taking part in this event in previous years and am looking forward to getting stuck into this one.
"As well as being a physical challenge, the planning and logistics all take a lot of work as well – from working out the best routes and relay legs, to food stops and support vehicles, so it is always a relief when it all comes together.
"We've got staff from Skye, Fort William, Inverness, Elgin and Glasgow taking part, so it's also a great way for people across our organisation to get to know each other and work together as a team for two really worthwhile causes."
Team leader James MacInnes has also been integral in organising the event since the start.
He said: "I'm a keen cyclist anyway and this seemed like a good way to challenge myself and get a few other people involved from different parts of Scottish Water as well. You can't beat the Highlands in terms of scenery, although we don't always have time to stop and appreciate it while we're peddling through!
"The charities that we are raising money for do a fantastic job and we are delighted to have been able to support them over the years and to continue to do so with this year's challenge."
Anyone can sponsor the Scottish Water cyclists by going to
www.justgiving.com/fundraising/swnc500
to donate to Highland Hospice and
www.justgiving.com/fundraising/jamesmacinnes
to donate to WaterAid.