Blog: Industry Award Makes Me Proud - Tony Boyd 
23 May 2019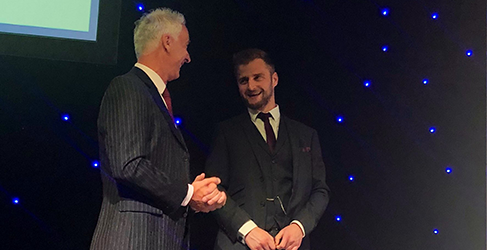 Tony Boyd wins Derek Jackson Special Achievement Award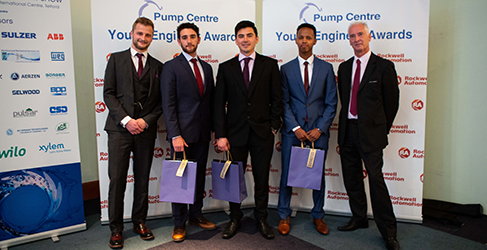 Engineer Tony, far left, with other award winners
"Receiving this award makes me feel like all the work I have done during my time at Scottish Water has been worthwhile. This has been great for my development as a young engineer."

Tony Boyd
Engineer, Technical Support & Assurance Dept, Scottish Water
As a young engineer at Scottish Water I am thrilled to have received the coveted Derek Jackson Award for Special Achievement in Engineering at the 2019 Pump Centre Young Engineer of the Year.
I am part of the Strategic Customer Service Planning Technical Support & Assurance team and am proud that I have taken advantage of every opportunity Scottish Water has given me.
Attending the event in Telford was huge and a lot of fun. I was invited to the gala dinner to receive my award which was a great feeling.
It felt like a massive pay off for the work I had put in and it was great to be able to put Scottish Water on the awards list again as a top company from within the water sector.
My manager suggested I enter the awards as a development opportunity. The process is quite intense over several months, but it was a great experience.
I was really nervous, but excited when I got through to the presentation stage. I felt like that was already a reward for the work I had put in to my projects over the past couple of years.
I thoroughly enjoyed the interview process. It was a great day and a rare opportunity to network with people from other parts of the water industry across the UK, such as the Environmental Protection Agency and other water utilities. The judges were welcoming and wanted to find out about each candidate and the passion they have for their work.
Receiving this award makes me feel like all the work I have done during my time at Scottish Water has been worthwhile. This has been great for my development as a young engineer.
I have an MSci in Applied Chemistry and Chemical Engineering. I started out on the Scottish Water Graduate Scheme. Now I hope to continue to develop my professional experience and become chartered as soon as possible.
This whole experience makes you realise that the work you do is important and makes an impact. Your job is not just your job, and it's worth sharing with others the good work you get involved with at Scottish Water.
I want to enhance my knowledge of the water industry from within Scottish Water and help graduates get the experience they need to become confident young professionals.