Customers in Fife Urged to Use Water Wisely
23 July 2018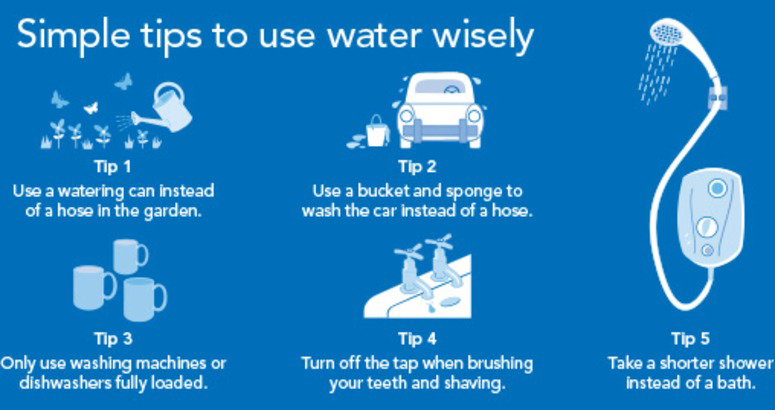 Customers Urged to Reduce Demand
Everyone can take simple measures to help keep water supplies flowing in Scotland.
Scottish Water is urging customers across Fife to use water wisely as a result of the ongoing dry weather this summer.
The majority of our Fife customers are served by Glendevon and Glenfarg reservoirs, where water levels are currently lower than normal for this time of year as a result of the prolonged dry and hot weather.
Scottish Water is now closely monitoring levels at the reservoirs and moving water between them to ensure people across Fife continue to have an adequate supply of fresh drinking water.
In consultation with the Scottish Environment Protection Agency (SEPA) measures are being taken to supplement and sustain supplies. We are transferring water to Glenfarg reservoir from the River Earn and we are using supplies from here to ensure there are sufficient resources at Glendevon reservoir.
SEPA recently announced that Scotland looks set to record its driest six month period since 1984 – based on readings between February and July this year.
The warmer and drier than usual spring and summer has impacted on the amount of water available across the country and in some areas water levels are running lower than normal. This is a result of the weather – areas where there has been significantly less rain and hotter than normal – and also an increase in customer usage levels.
Customers in Fife are now being urged to use water wisely by taking measures such as taking shorter showers rather than baths, only using washing machines or dishwashers when fully loaded, use watering cans rather than hose pipes on the garden and switch off the tap while brushing your teeth.
If everyone in Fife reduced the length of their shower time by two minutes just once this would save a total of 5.7 million litres of water (based on figures which show 15.5 litres of water are used every two minutes in the average shower and the latest Fife population figure of 370,000).
Peter Farrer, Scottish Water's chief operating officer, said: "While the recent rainfall is very welcome there has been a prolonged dry spell in Fife in the preceding weeks and water levels remain lower than would be expected at this time of year. Further sustained rainfall is needed to return water levels to normal levels.
"In the meantime, we are would urge customers in Fife to use water wisely as taking simple steps to preserve water helps us maximise water resources.
"Scottish Water will continue to monitor water levels in the area take measures to maintain a supply of quality drinking water to all our customers."
Both Glendevon and Glenfarg reservoirs are located in Perth and Kinross but serve the majority of our customers across Fife.
Scottish Water invested £4 million in the creation of a transfer pipeline at Glendevon in 2014. Since then up to 25 million litres of water a day - enough to fill 10 Olympic-sized swimming pools - can now be pumped eastwards from more plentiful sources in the Ochil Hills to the water treatment works. It is used to supply communities in Dunfermline, Rosyth and West Fife.
In some areas of Scotland there has been a 30% increase in demand for water during the summer so far and an additional 140 million litres are currently being produced and pushed through the system by Scottish Water every day to meet current customer usage.
To help customers use water wisely, advice is available on our website
www.scottishwater.co.uk/savewaterscotland
or call our Customer Helpline on 0800 0778 778.
For further information please contact the Scottish Water press office on 0131 445 6882