Protecting one of Scotland's Great Rivers
24 April 2019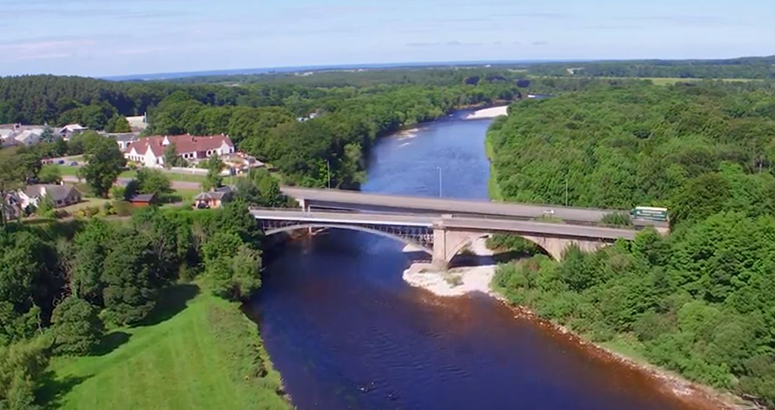 Going with the Flow
New pipe will protect world renowned river from risk of pollution. Pic: courtesy of Transport Scotland.
A challenging project to replace a vital pipe crossing which spans the River Spey at Fochabers in Moray is now complete.
The £1.2 million project will help to safeguard Scotland's fastest flowing river, world renowned for its salmon fishery and whisky industry, from the risk of pollution.
The 250 metre length of replacement sewer enables waste water from Fochabers to be transferred safely across the Spey for treatment at the town's Waste Water Treatment Works on the river's west bank. The previous pipe was suspended beneath the nineteenth century Old Spey Bridge, which was replaced in the 1970s by the modern A96 river crossing.
Work was carried out on Scottish Water's behalf by its delivery partner amey-Black & Veatch (aBV) and its contractor Morrison Construction.
aBV Project Manager Ross Cumming said: "We're very pleased to have completed our work, ensuring that Scottish Water's waste water network will continue to serve customers in Fochabers and protect the Spey's unique environment for many years to come.
"The project involved working next to a critical link in the trunk road network, close to communities and major businesses. By careful preparation, we were able to complete our work safely, with minimal disruption to the road and no impact on service for customers.
"The new pipe crossing installed within the structure of the modern bridge is much safer and easier to access and maintain on an ongoing basis.
"Once the new pipe crossing was in operation, our final challenge was to remove the redundant pipework safely from beneath the historic Old Spey Bridge. Working safely during the winter months from scaffolding suspended over 30 metres above Scotland's fastest flowing river wasn't easy.
"With SGN's ongoing work, the outcome will also deliver a lasting improvement to the old bridge which continues to serve an important purpose as a pedestrian and cycle route."
The Old Spey Bridge was first built in the early 1800s, until when this dangerous section of the Spey had to be crossed by ferry at nearby Boat of Bog. Two of the original bridge's three spans were washed away in the Muckle Spate of 1829, making way in 1852 for the single replacement cast iron span that remains in place today.
Scaffolding has been left in place on the old bridge to allow SGN to completes work to relocate a gas main from the old bridge to the modern A96 crossing, which is due to be complete this summer.