Protecting the Moray Firth's Bottlenose Dolphins
26 April 2019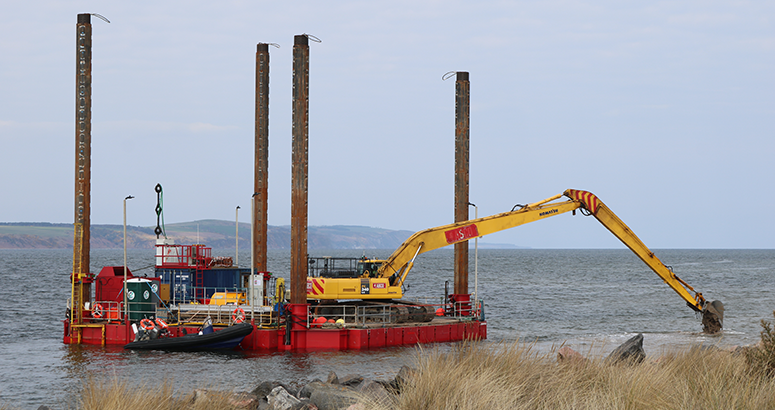 Dolphin Delight
Works will help protect the environment and the home enjoyed by world's most northerly colony of bottlenose dolphins.
Investment to enable Ardersier Waste Water Treatment Works (WWTW) to meet the needs of growing communities east of Inverness and protect the local environment is progressing well.
This Spring, a vital part of the project has been underway on the Moray Firth shoreline. The extension of the existing outfall pipe east of Fort George to a length of 300 metres is crucial to take the treated effluent from the upgraded WWTW into deeper, faster flowing water. This helps to protect the Firth's environment and the home it provides to the world's most northerly colony of bottlenose dolphins, as well as harbour porpoises and seals
Scottish Water's alliance partner amey-Black & Vetch has engaged outfall and marine specialists ABCO Marine to assist with this challenging element of the project.
Working on the coast, around 1 kilometre east of Fort George, the outfall works involves extensive activity at sea. Much of the work is taking place from a specialised barge, standing on the seabed in the waters at the edge of the Firth.
While marine work such as digging of the pipe trench and lowering the new outfall into position takes place, a Marine Mammal Observer continually monitors the surrounding sea for any nearby marine mammal activity to minimise risk of any disturbance. This ensures that there is no short term harm to the Firth's permanent residents in the process of delivering the long term benefits of the outfall extension to their home.
With six people on site trained with these expertise, sightings are recorded and the intel is shared with Marine Scotland so they can monitor the sightings to make sure we are not interfering with the mammals in any way.
Part of the wider project to deliver improvements to the waste water infrastructure in the area, this section of the work is due to be completed by the end of May.
To find out more about the project, visit
In Your Area - Ardersier