Annual Report Highlights Strong Performance for Customers
25 July 2018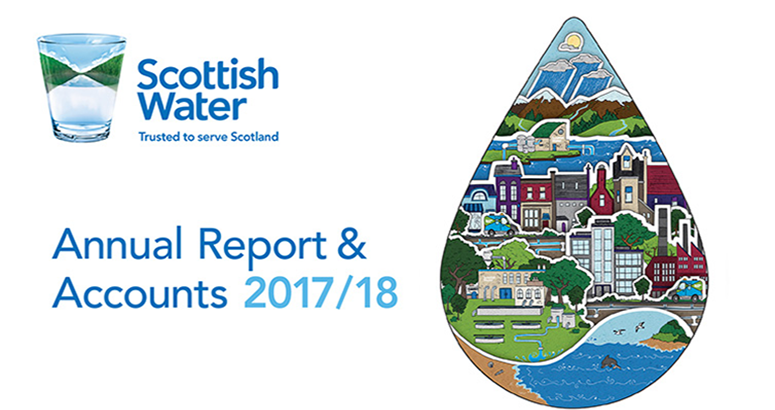 Good News for Customers
Scottish Water delivers on its commitment to customers, the environment and future investment.
Scottish Water delivered a record level of customer service and environmental performance during 2017/18, the utility has reported in its annual report and accounts published today.
The report highlighted improvements in its customer experience measure and performance against its overall regulatory target was exceeded.
Water quality during the 12 months covered by the report remained high with 99.9 per cent of all tests taken at customers' taps complying with strict standards.
Waste water performance was also highlighted in the report with fewer failures at treatment works than in any previous year.
The Dunfermline-based water and waste water utility serves 2.5 million households and 153,000 businesses premises with 1.38 billion litres of drinking water every day. It also treats 929 million litres of waste water daily and returns it safely to the environment. Its average household charges are among the lowest in the UK at £42 less than in England and Wales.
Last year Scottish Water invested £647 million on the nation's water and waste water infrastructure. It plans to deliver over £3.5 billion of capital investment in total in the six-year period from 2015 to 2021, making it one of the biggest infrastructure investors in Scotland.
Environment Secretary Roseanna Cunningham said: "This annual report provides further evidence of the progress Scottish Water is making. They are a public sector success story and I welcome their achievements, including the highest ever levels of customer satisfaction.
"As well as delivering high quality drinking water and protecting the environment, they are also making a valuable contribution to our economy. Last year, Scottish Water invested £647 million in the nation's water and waste water infrastructure providing jobs and supporting our communities. This was achieved whilst ensuring that average household bills in Scotland are £42 lower than those in England and Wales."
Scottish Water Chief Executive Douglas Millican said: "I am delighted to report that performance in key areas has been so strong during 2017/18. Customers are at the heart of what we do and to have delivered further improvements in our service whilst continuing to provide value for money is extremely positive.
"We have continued to invest significantly to sustain high levels of water quality and increase the resilience of our networks. Scottish Water is one of the country's biggest infrastructure investors and during 2017/18 we invested £647 million to ensure that we can keep delivering for our communities and our customers.
"Water quality remains at very high levels in Scotland and we have achieved record levels of environmental performance. I'm delighted that once again Scotland's water sector, led by us and working with our partners and suppliers, has been again recognised by Which? as being the most trusted by Scottish consumers."
Annual Reports can be found in the
Document Hub page