Angus Sewer Wipes Haul Prompts Call to Help Keep the Water Cycle Moving
26 January 2018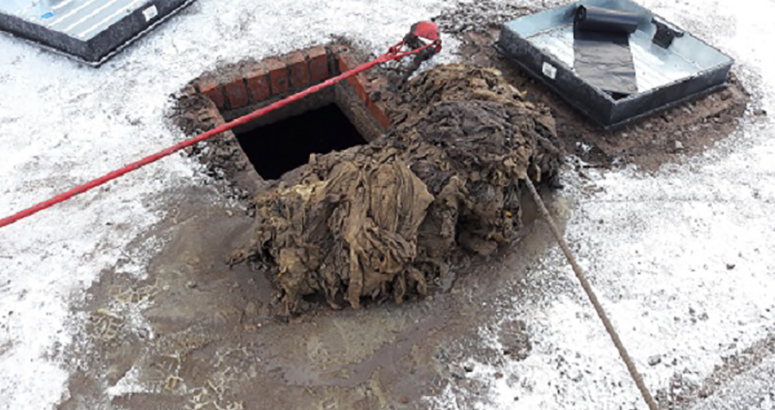 Clogging the Network
Keep the water cycle moving and remember the Three Ps Rule when it comes to what you flush down the toilet.
Scottish Water is urging customers in the Angus area to remember their bathroom checklist and help keep the water cycle moving after a recent sewer blockage in the area.

A Scottish Water team was called out to a blockage recently in Monifeith and found hundreds of wipes clogging up the network.

In total the team filled five rubbish bags with wipes that had been dumped into a single section of sewer.

Scottish Water's Cycle Campaign urges customers to use the 'Three Ps rule' and only flush pee, poo and toilet paper down toilets.

Flushing things like wipes, nappies or cotton buds down the toilet can cause drains to block.

Items like these should go in the bin, not down the toilet.

A reminder of the bathroom checklist of 'never flush' items is:
All wipes (baby, personal cleansing, toilet and household cleaning) - even if the pack says 'flushable'.
Sanitary items (sanitary towels, tampons, liners, applicators and backing strips).
Cotton wool, cotton buds, disposable nappies and nappy liners.
Condoms, incontinence pads, colostomy bags, used bandages and contact lenses.
Gavin Noble, Scottish Water Sewer Response Team Leader for the Angus area said: "The volume of wipes from this recent blockage in Angus is an ideal chance to remind customers of the consequences of putting inappropriate items down the toilet.

"Every year there are around 37,000 blocked drains and sewers across Scotland, which can cause flooding and pollute rivers, burns and coastal waters.

"Around 80% of these blockages that clog up the cycle are caused by either inappropriate items being put down the toilet, or fat, oil and grease being put down the sink.

"We believe the best way to tackle blocked drains and sewer flooding is to work together to help prevent blockages that can clog up the cycle in the first place and we would urge customers to follow the Scottish Water Cycle Campaign.