£20m Scottish Water Project to Improve Edinburgh's Water Supply
26 March 2018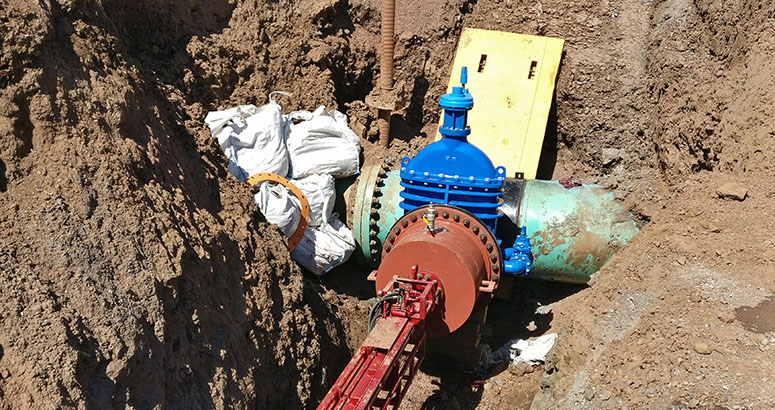 Major Investment
Almost 7 miles of new mains will be installed to ensure supplies to Edinburgh and Livingston are more resilient for the future.
More than 165,000 people in Edinburgh and West Lothian are to benefit from investment of around £20 million in their drinking water network.

Scottish Water is to improve the water supply network by installing almost seven miles of new mains to ensure a more resilient supply of fresh water in parts of Edinburgh and Livingston.

The work will involve constructing a two-way treated water link between Marchbank Water Treatment Works near Balerno and Glencorse Water Treatment Works near to the Pentland Hills Regional Park.

This will improve resilience of water supplies in Scotland's fastest-growing city by allowing customers to be supplied from two different locations, providing a back-up if something was to go wrong with one supply.

The extended network will also have the capacity to link to other existing and future water supplies across parts of the south of Scotland.

The network expansion will be built in an area of the Pentland Hills. Construction, which will mostly take place on private land, is due to last up to 24 months. The work will be carried out by Scottish Water alliance partner Caledonia Water Alliance and will start later this month.

Scottish Water's Director of Capital Investment, Mark Dickson, said: "Interruptions to supply can have a significant impact on our customers, with customers telling us that resilient supply is a big priority for them.

"In order to keep delivering high quality, great tasting water to customers we now need to further improve the reliability and resilience of our water supply systems and this project will do just that for Edinburgh."

Scottish Water has consulted extensively with landowners and businesses in the Pentland Hills Regional Park area as well as a range of organisations including the Regional Park, Edinburgh City Council, the Ministry of Defence, Woodland Trust Scotland, Visit Scotland, Transport Scotland and SEPA.

Scottish Water is committed to minimising disruption and will keep residents, businesses, landowners and land users – including hill walkers – notified of where the work is being carried out and any diversions in place.

The project is over and above a £29.5 million investment programme of works by Scottish Water to improve the Edinburgh's water and waste water systems. That project is upgrading many miles of water mains network, to improve security of supply and provide clear, fresh drinking water and to upgrade the city's sewer network to improve the environment and reduce flooding risks.