Scottish Water Receives Plastic Free Champion Award
26 April 2019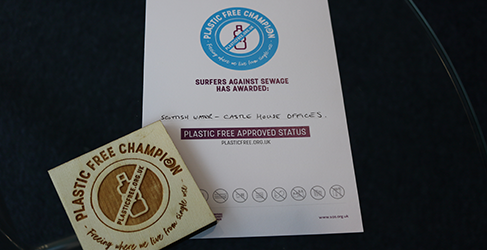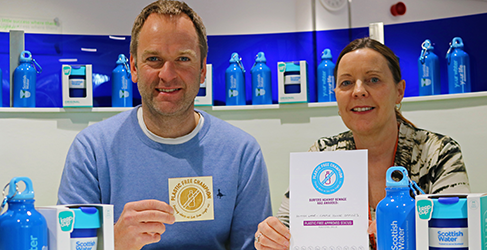 Scottish Water's Head Office has received a "Plastic Free Champion" award from local campaign group Plastic-Free Dunfermline.
Plastic Free Dunfermline, a community organisation run by local volunteers, is focused on getting residents, schools, community groups, businesses and Fife Council to reduce their singe use plastic consumption

The award is part of a UK wide initiative lead by Surfers Against Sewage recognising businesses who have gone the extra mile in reducing the amount of single use plastics at their offices.

By providing all staff with aluminium refillable drinking bottles, removing single use plastic cups and coffee cups for visitors, selling reusable branded Keep Cups, removing plastic cutlery from the canteen, using vegware compostable products and trading plastic bin bags for biodegradable ones, the company has significantly reduced the amount of waste going to landfill at its Headquarters in Castle Drive.

As a Plastic Free Champion, the company is also committed to continuing to look at other ways of reducing waste and pollution across all of its activities.

Many of the offices, including Dunfermline, have electric vehicle charging points and all staff are encouraged to take part in beach cleans, and suppliers are graded on their environmental credentials.

The award follows the installation and launch of a new Top Up Tap in the centre of the town, which encourages people use refillable bottles when they are out and about.

Debbie Cant, Workplace Manager, Scottish Water Dunfermline, said: "I'm delighted that our headquarters has been awarded the status of Plastic Free Champion. Scottish Water has an ambition to be a leader in delivering a sustainable Scotland and reducing our use of single-use plastics within our offices is an important part of this."

James Daw, from Plastic Free Dunfermline, said: "We have been impressed by the measures that Scottish Water have taken to reduce their single-use plastic consumption and are pleased to pass on the 'Plastic-Free Champion' award to them in recognition for their efforts.

"We hope that Scottish Water's efforts encourage other businesses in and around Dunfermline to reduce their single-use plastic too. We would be delighted to hear from other local businesses who also would like to become 'Plastic-Free Champion".