Roman Walls Revealed During Scottish Borders Water Upgrade
26 June 2018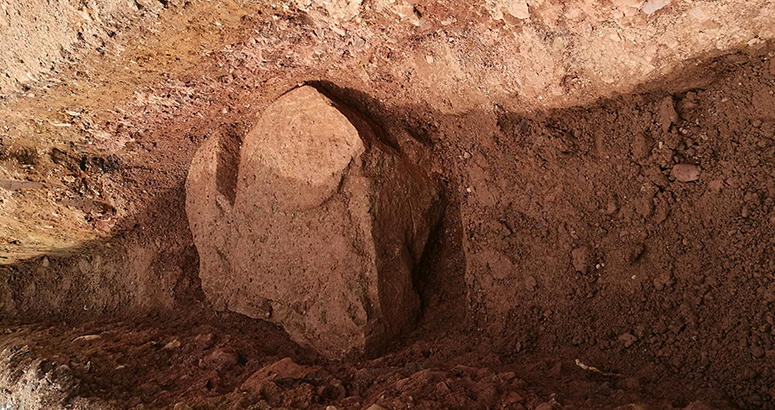 Ancient Roman Walls Revealed
Scottish Water team uncover part of fort at famous 2000 year old Roman settlement of Trimontium during works to lay new 7km water main.
Work to install a new water main in the Scottish Borders has uncovered sections of 2000 year old Roman wall which was part of the famous Roman settlement of Trimontium.

Trimontium takes its name from the Eildon Hills, meaning "the place of the three hills". The fort was established from 80 to 211AD and at its height the 370 acre complex had a fort, and four settlements surrounding it.

The location of Trimontium skirts the village of Newstead where the £4m investment to lay the 7km water main to Earlston is taking place.

The project began in March and is being carried out by Scottish Water's alliance partner Caledonia Water Alliance (CWA) to improve overall drinking water quality and ensure that Scottish Water customers in the area continue to enjoy clear, fresh drinking water now and in the future.

Barclay Smart, CWA's project manager, said: "Given the significant Roman history in Newstead we secured the services of AOC Archaeology Group to supervise the first phases of the project. During the initial excavations of the site we were fascinated to discover parts of Roman wall dating from around 80AD. These wall sections were inside the Roman site known as the Great Camps Complex, comprising of at least four temporary camps.

"In order to preserve the walls and to adhere to Scottish Planning Policy and Historic Environment Scotland, we have constructed a 5 metre wide by 1.6km long stone haul road to allow machinery access to the site without disturbing and damaging the archaeology underneath."

Donald Gordon, secretary of the Melrose-based Trimontium Museum Trust, said: "The uncovering of the Roman walls within the Great Camps Complex during this project is significant as Trimontium was a vast settlement.

"The fort itself was started in the 1st century AD under the Governor of Britannia, Julius Agricola. At its height it housed around 1500 soldiers and comprised of the fort and the four settlements surrounding it which would have included dwellings as well as baths, shops including trades such as glass and pottery-making, ironworking and weaving.

"Indeed, the fort and settlements were more populated then than Newstead and the surrounding areas are today. I'm very pleased that Scottish Water has protected the Roman walls for the next 2000 years to come."

Trimontium and its settlements were first excavated in 1905 and there have been three major excavations since.

The significant finds are an unparalleled collection of Roman armour, including the ornate Newstead Helmet, an iron Roman cavalry helmet dating to 80–100 AD and known as the Roman Face of Scotland. These finds are currently on display at the National Museum of Scotland illustrating the history of the Roman army's military occupation of southern Scotland.