Free Sanitary Products for Our Employees
28 May 2019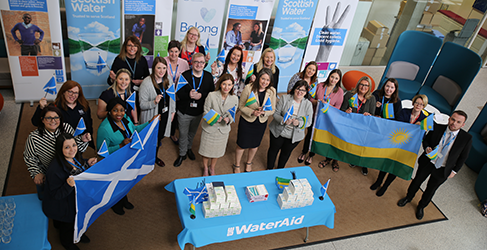 Move was inspired by work with WaterAid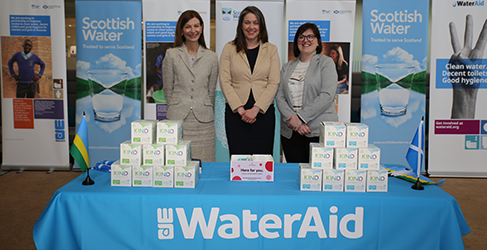 L-R: Scottish Water's Director for People, with Communities Secretary Aileen Campbell and WaterAid Manager Elizabeth McKernan
Scottish Water has become one of the first water organisations in the UK to make sanitary products freely available to employees.

Working closely with partner charity WaterAid, we are taking a lead in ensuring employees have access to sanitary products at our premises throughout Scotland.

The decision supports the Scottish Government's programme to make sanitary products widely available in public buildings and organisations.

The move was inspired following a series of visits by Scottish Water employees to Rwanda and Malawi to see WaterAid projects which aim to improve basic toilet and menstrual hygiene management facilities in communities.

They returned to Scotland with an enhanced awareness of how the lack of effective facilities or products can impact on individuals.

The announcement today coincides with Menstrual Hygiene Day, which aims to highlight the importance of good menstrual hygiene and break down taboos and barriers about the issue.

Welcoming the move at Scottish Water's offices at Stepps near Glasgow today (May 28 ) Communities Secretary Aileen Campbell met employees and WaterAid team members to hear about the positive steps being taken. She also announced £100,000 additional funding for projects in Rwanda to provide better access to sanitary products.

She said: "I'm delighted that Scottish Water are one of many organisations choosing to introduce free sanitary products across their offices. By doing so, they are helping to reduce the stigma around periods. I want to see more public and private sector companies and organisations follow their lead and I would encourage every employer to consider taking similar action."

Shirley Campbell, Scottish Water's Director for People, visited Rwandan communities earlier this year to see how projects are improving conditions.

She said: "I saw for myself how millions of people cope with their periods without a safe or private toilet – often with no toilet at all. We're working with WaterAid to help change this.

"We might not have such challenging conditions here in Scotland but menstrual hygiene and dignity at work are very important issues and I am proud that we are launching this development on what is a significant day.

"Scottish Water has decided that providing sanitary products in our toilet areas for employees who need them is the right thing to do.

"We want to ensure that sanitary products for staff at Scottish Water are as widely available as toilet paper and that their availability is accepted as the norm in the same way.

"Providing sanitary products for any employee who needs access to them and being able to do so readily and for free, ensures a basic level of dignity at work that we should all expect in 21st century Scotland."
The first phase sanitary products will be available at six main Scottish Water offices before it is phased in on a roll-out basis at the company's other offices.

She added: "The move is in direct response to the Scottish Government's vision that all people who menstruate in Scotland should have access to sanitary products no matter where they live.

"We are pleased to be among those organisations leading the way and making a difference."

Elizabeth McKernan, Manager of WaterAid Scotland & Northern Ireland accompanied Shirley on the visit to Rwanda.

She said: "No woman or girl should face a situation where they have their access denied. Today Scottish Water and the Scottish Government have underlined their commitment to tackling inequalities, both here in Scotland and in Rwanda.

"WaterAid is so excited to be uniting with Scottish Water and the Scottish Government to help women and girls in Rwanda to reach their full potential.

"Globally, one in three women and girls have no toilets so they have nowhere private, safe or clean to manage their period. Without decent facilities, girls often miss class during their period or drop out of school altogether once they reach puberty.

"Together, we want to enable women and girls to reach their full potential, helping them live their lives without limitation – water, toilets and hygiene are key!

"Already our projects have helped 1,600 girls from four schools and they now have decent toilets and somewhere private to wash, meaning they can now manage their periods safely and with dignity.

"I'm so proud to say that through the school sanitation clubs we've reached over 100,000 students – girls and boys – with a new understanding of why hygiene, clean water and sanitation are so important for their health. Once pupils understand that periods are nothing to be ashamed of, everyone can focus on getting an education and a brighter future."

With support from Scottish Water and the Scottish Government, WaterAid built a new toilet block in G.S Nkumbere School in Rwanda. Additionally, the improved level of menstrual hygiene awareness means that girls like Idda, 15, can now go to school during their period and the boys no longer tease the girls for having periods.

Idda said: "Before we had these facilities, girls used to stay home during their period because they felt dirty. Most girls didn't clean themselves when they had their period. We now have weekly school hygiene club sessions. Girls are clean, and don't have to stay at home."

Scottish Water's move will also contribute to efforts to encourage more women into a sector in which females continue to be under-represented. About 28% of the utility's staff are female, a figure which is rising year-on-year.