Annual Consultative Meeting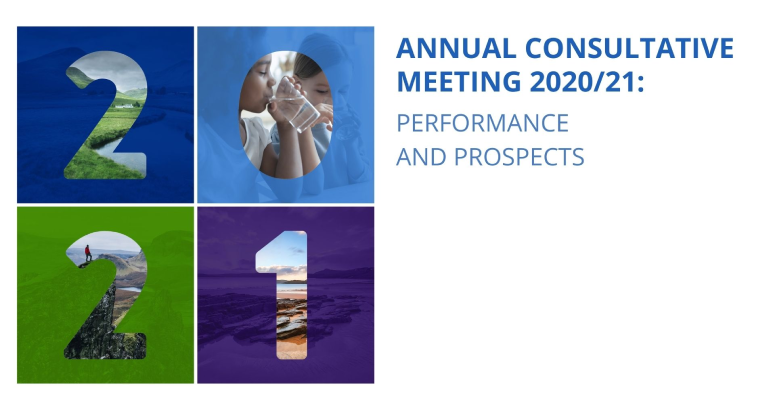 Annual Consultative Meeting
Watch videos, look at photos and find information highlighting our achievements and the challenges faced in 2020/21.
Responses to our ACM
Thank you to all of our customers who took time to watch our online Annual Consultative Meeting. It was only the second time this has been held virtually due to ongoing Covid restrictions.

People could view a number of videos to hear more about what we do across the country and learn about some of our exciting plans and biggest challenges for the future.

We received a number of questions from customers across Scotland which covered a wide range of topics including: new drinking water connections in areas of development; our work to protect aquatic life at our reservoirs; environmental pollution incidents and our plans to improve how Combined Sewer Overflows operate (CSOs); requests for capital project information and how communities are engaged with ahead of and during our work; manhole repairs.

Whilst it isn't possible for us to publish all the questions and answers due to General Data Protection Regulation (GDPR) and the specific customer information relating to the issues they highlighted we have sent responses directly to those customers who made contact with us.

Visit our Online ACM
Click the link below and follow these steps to receive your unique access link by email.
Read and agree the Data Processing Permission pop-up
Provide your name, email address and select both "virtual attendee" and "check me in" boxes. This is essential to ensure your unique link is active when you receive it
Check for your confirmation email, which may take a few minutes
Click on the live link in the email to explore the digital platform
Visit our digital platform here
One area that did receive a number of concerns about was in relation to new water connections in areas where new housing is being constructed. There were some concerns about network capacity and flooding issues. Scottish Water has a duty to support sustainable development and to work in partnership with Local Authorities in the creation of their Local Development Plans (LDP). We have a Network Impact Assessment Team which hydraulically models the potential cumulative impact of new developments on the existing water and waste water networks. These studies are designed to identify any possible work required in the network to resolve any negative impact from new developments and all ensure customers have access to fresh, clean drinking water and that the public sewer network in those areas has enough capacity to cope with additional homes.

In answer to questions regarding CSOs we explained how Scotland's sewer network has historically been built as a 'combined' system, which much of our pipe network transports a combination of foul waste and a certain amount of surface water. In a 'combined' system, heavy rainfall can overwhelm the sewer network and result in flooding. Modern building practices separate foul waste from surface water and we have robust policies to ensure that, going forward, surface water is separate from foul waste. However, due to the nature of much of the existing sewer network, we also need to have a way to relieve sewers during times of heavy rainfall to reduce the risk of flooding. CSOs are in place to divert heavy rainfall from sewers and, at times, there can be highly dilute levels of sewage present. We are currently developing a route map to determine what can be done and where investment is needed to reduce CSOs spilling.

Thanks again for showing interest in Scottish Water and please continue to visit our website to learn about and keep updated on our essential work.