Carnoustie Sewer Improvements
Project Overview
In 2022 we carried out improvements to wastewater services in Carnoustie. This project involved the repair/replacement of parts of the existing sewer network in a number of locations in Carnoustie including James Street, Taymouth Terrace and Burnside Street.
Works to install a new sewer in James Street including within Burnside Primary School were carried out over the summer holidays with works to replace a section of sewer in Taymouth Terrace being completed after this.
Following on from this work in 2022, we have identified further points in the network where follow up work is required in 2023, such as new fittings at certain connection points within the sewer.
As well as engaging with local business, our partner Caledonia Water Alliance (CWA), who are managing the project on Scottish Water's behalf were able to pay the local nursery a visit in 2022, speaking to children about Scottish Water's key educational messages and handing out our branded water bottles. CWA are still in constant communication with customers, local businesses, and the nursery regarding all future work.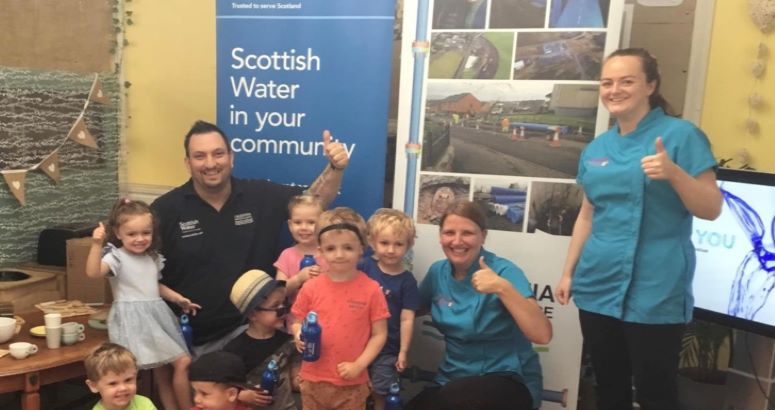 Nursery Presentation
Clive Duncan of CWA pictured with the children of Scallywags Nursery in Taymouth Terrace, Carnoustie
What we are doing next
Phase 1 - James Street
Phase 1 of the works includes two further excavations being carried out to replace pipe fittings on the sewer is planned to start in James Street from 22nd February and is expected to take approximately 2 weeks.
There will be roadworks with localised traffic management in James Street during these works. (See below image for more details)
During the work there may be some restrictions to vehicle access/parking for some properties. Our team on site will liaise with any customers affected by this and will maintain access as much as possible. Pedestrian Access will be maintained at all times.
There will be some disruption from construction traffic and noise during the works.
There will be no disruption to water or wastewater services during these works.
Area will be reinstated after works are completed.
We will make sure every precaution is in place to minimise disruption in the area.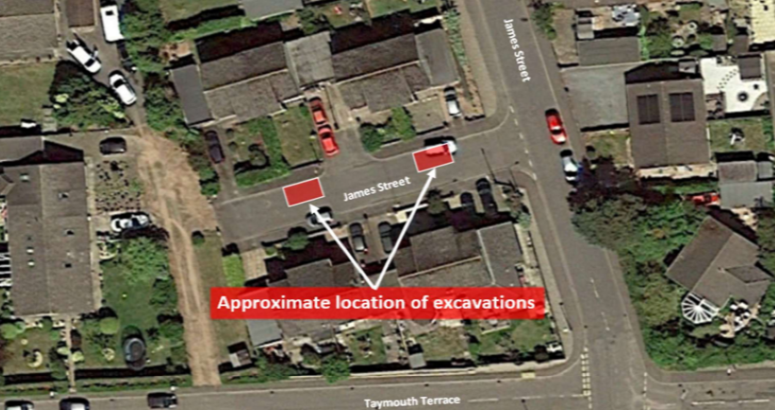 James Street Work Locations
Shows location of 2 excavation points
Phase 2 - Taymouth Terrace
Phase 2 of works is on Taymouth Terrace and involves connection of existing sewer to new pipe. More details will be given on this phase of work once phase 1 has been completed.