Flooding Project, Dunblane
Project Overview
Scottish Water is investing £3 million in essential upgrades to the local sewer network in Dunblane.

The improvement work will help tackle the issue of sewer flooding by increasing the capacity of the local sewer network.

The project is being delivered by Scottish Water's alliance partner amey binnies.
At a Glance 
Flooding Prevention
£3m Capital Investment
Delivered by amey-binnies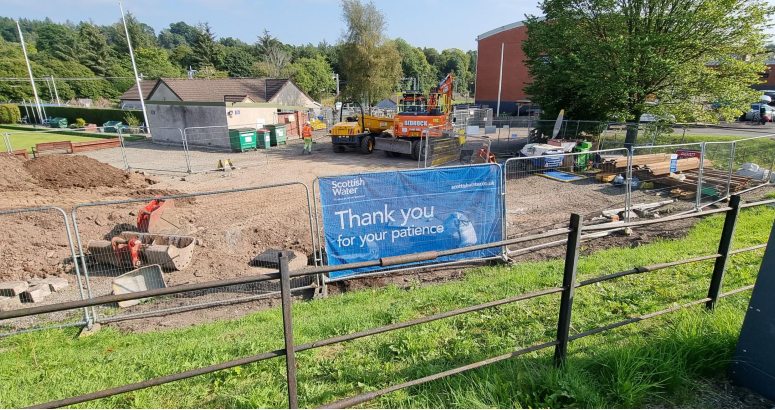 Work Underway 
Work began at the Bowling Club and Air Cadet premises in August.
What We Are Doing
We are replacing and upgrading the existing sewer network to increase capacity and help reduce the risk of internal and external sewer flooding.
Improvement works will take place along along Claredon Place, Springfield Terrace, George Street and through the field behind Hillside Avenue.
Traffic management has been agreed in liaison with Stirling Council and all efforts will be made to keep disruption to a minimum.
Why We Are Doing This
The area has previously been affected by flooding.
The work being done here will increase the capacity of the local waste water network and will provide extra storage during times of heavy rainfall.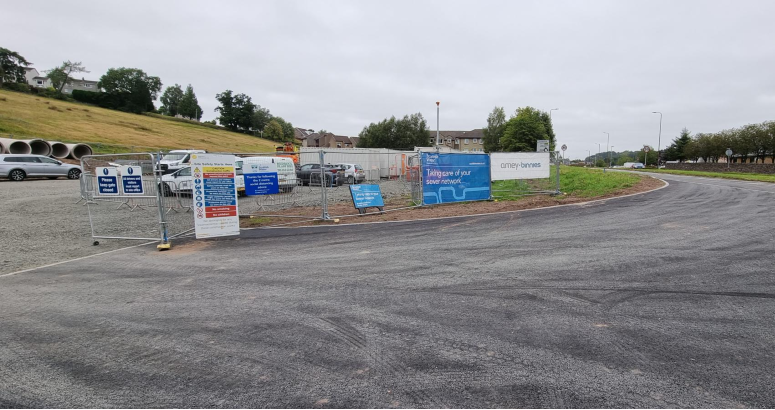 Work Compound
amey-binnies site compound near to B8033 Stirling Road.
Updates
July 2022
Progress has been slower than anticipated due to the tricky ground conditions - working around a high number of existing services, a number of which have been uncharted.

Work in George Street is ongoing with slow progress due to rock level being higher than anticipated. This is now anticipated for completion by Friday 15th July.

Springfield Terrace works and road closure are due to commence on Monday 18th July.

The new surface water sewer behind Hillside is forecast to be completed and operational for Friday 5th August. This will help alleviate flooding issues ahead of the main works being completed.

Main sewer works are now forecast to be completed by Friday 2nd September, with one week's demobilisation of the compound area after this date.

We are currently working our way along the top of George Street and re-building the stone wall on George Street which was impacted by our first phase of works.

We are also reinstating the roundabout and traffic calming area near to Claredon Place.

Drainage installation is ongoing near to Argyle Way, with temporary traffic lights expected to be in operation here w/b 27th June. Vehicle access to Argyle Way will be maintained.

Works in Springfield Terrace are anticipated to begin at the end of June and further information about traffic management will be communicated as soon as it is possible to do so. VA signage for outside the playpark is also in the process of being arranged.

We are continuing to do all we can to keep any disruption to a minimum for local residents and all road users.
May 2022
Surface water pipe laying is ongoing in the field behind Hillside, moving towards Argyle Way. We have had to increase our work area fencing to deliver these works safely, however, we continue to maintain access to the field given its popularity with dog walkers.

Works are ongoing in Claredon Place. Phase 1 & 2 of our works in Claredon Place have been completed and phase 3 is under way near to the junction at Sunnyside. Claredon Place will be reinstated on Tues 31 May and Wed 1 June, with the road due to re-open on Thursday 2 June (latest). Once Claredon Place is open the current traffic management arrangement will be removed and the traffic will revert back to the original flows meaning that the traffic will come through Claredon Place to get to Springfield Terrace. Sunnyside will go back to 1-way traffic.
Upgrade work continues in George Street and is still anticipated for completion around mid-June (approx. 17th June). As the work here progresses, road traffic management will move on a rolling basis in order to help minimise disruption for road users and local residents. Parking is suspended half way along George Street.

Our second phase of works on George Street, which will start at the top of the hill and then progress along George Street in the direction of Charles Street, are due to start on Wednesday 1 June. During this time, parking will be restricted within our road closure and a new diversion route will be in place down Hillside, along Claredon Place and along Springfield Terrace. We will continue to do all we can to keep any disruption to a minimum for local residents and all road users.

In order to help minimise any further disruption in the local area, we will now finish all works in George Street prior to starting the work in Springfield Terrace. We now anticipate works to begin at the end of June.

Scottish Water's alliance partner, amey-binnies, is delivering the project which is due for completion by the end of July 2022. As with all works of this nature, our programme can be subject to change due to circumstances outwith our control such as supply chain issues.