Gladhouse Reservoir Planned Work
5 key improvement items for the reservoir structure and operation:
Repair and upgrade the spillway channel, including replacing and raising road bridge, to accommodate future flood events.
Improve the drawdown capacity of the reservoir. This allows us to reduce the level of the reservoir quickly in the event of an emergency.
Install automated valves on the tower outlets to assist operation.
Provide safe access to the upstream face of the dam for Scottish Water staff.
Install apparatus to safely gauge the flow at the outlet of the tower culvert.
Site Preparation work (approx. 5months)
Following feedback from the local community raising concerns about the impact of construction vehicles on the roads around the reservoir, our project team and contractors (Georgie Leslie Ltd) have agreements in place to utilise Gladhouse Mains Road for the duration of this work. The road will be used for site traffic only and remain gated to the public. They will be carrying out road upgrades, installing temporary passing places and a site compound in the coming weeks. This should have minimal impact on local residents and roads. Site preparation works include:
Upgrade of road through Gladhouse Mains Farm
Set up of site compound area
Site investigation to the Rosebery WTW raw water pipe to define line, level and location for future emergency drawdown pipe
Tree removal within SW owned land for future emergency drawdown pipe
Site investigation to spillway – dig boreholes either side of spillway and road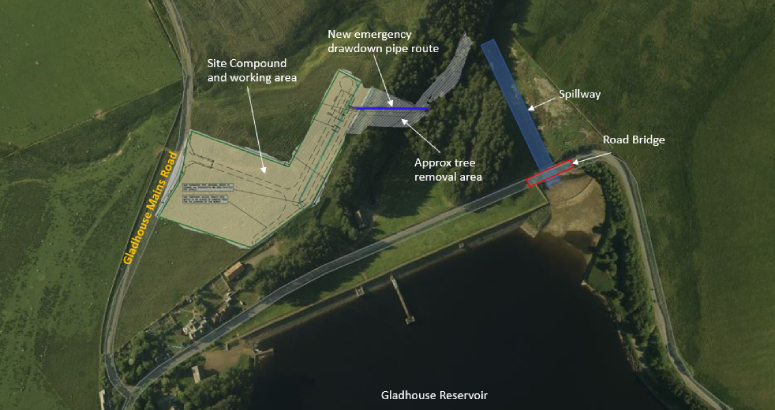 Gladhouse site plan
A satellite view of where the work will be taking place. 
Planned work questions and answers
Click on the button below to view common asked questions and answers regarding the planned work at Gladhouse Reservoir.
Click here
Further updates
We will continue to update this page with the latest information. Why not follow us on social media to stay up to date on our latest activity:

Twitter: @SWsoutheast
Facebook: @ScottishWater