Project Overview
This investment project, which is underway on Murano Place, Edinburgh is to repair a damaged sewer to improve our waste water network and ensure we continue to deliver resilient waste water services for our customers in the street.
The project is being delivered by our delivery partner, Mackenzie Construction Ltd.
A reminder that local businesses are open as usual while essential works are under way:
Tepuy Coffee
Sicillian Pastry Shop
U Save Shop
Albert St Butchers
Juiding Chinese Takeaway
Belle Chexeux
John Redpath Electical
Word of Mouth Coffee

Santosa Wellness Centre + Cafe

Rajahs Supermarket
At a Glance
Murano Place is closed and there is no vehicle access to Leith Walk from Albert Street

General working hours will be Mon-Fri 8am-4.30pm

Bin collections will continue as normal with the support of site workers.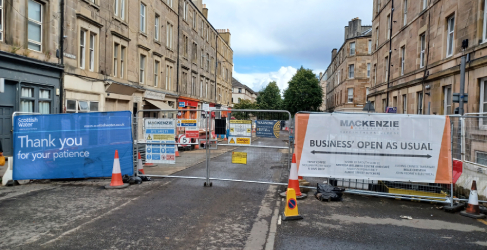 Signs erected at the end of Albert Street from Leith Walk to inform passerbys that businesses are operating as nomal.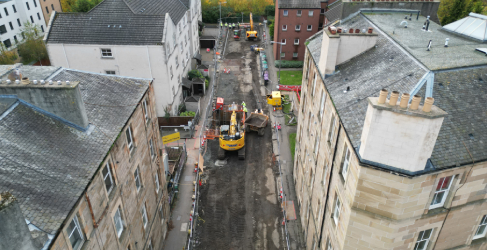 Arial shot of working area within Murano Place and Albert Street.
Latest Updates - November 2023
We have now completed the majority of our programme with only phase 5 outstanding and the remedial reinstatement of Murano Place. Phase 5 consists of replacing 10 metres of sewer pipework across Murano Place. During this work we will need to close a small section of the footpath and we will work with the property factor to see if a small diversion can be put in place around this onto the grass verge.
While we undertake phase 5, our reinstatement teams will aim to begin the remedial work from the dead-end side of Murano Place, to restore the street to as close to as it was before work commenced. This will consist of reinstating the road, kerb, pavements, and any defects associated with our work, including areas of monobloc.
We are planning our final community drop-in for Thursday 14th December, where we expect to be able to open the road either on this date or closely after.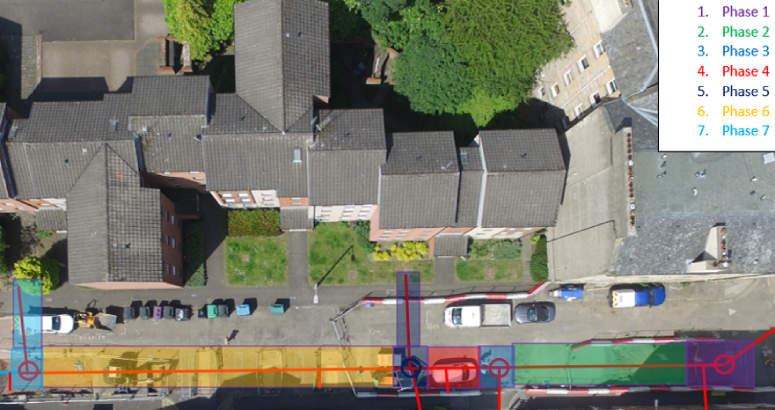 Approx. diagram of phases of work within Murano Place
What we are doing
We are taking care of the waste water services by replacing the damaged sewer network in Murano Place to reduce the risk of localised flooding and stabilise the road.
Due to its location and close proximity to existing properties and the depth of the sewer, which is approximately 3.5 to 5 metres below ground level, this is a complex repair which will take time to repair.
General working hours will be Mon-Fri 8am-4.30pm however there may be occasions when we need to work out with those hours (including weekends) to complete a section of works.
Murano Place will be closed during the works and there is no access to Leith Walk via Albert Street.
Why we are doing it
We initially investigated a sewer blockage and depression in the road in January 2022. We carried out a sewer inspection with cameras and found that the sewer which ranges from 3.5m to 5.4m deep had collapsed in at least 4 places, over a length of 100m on Murano Place.

Mains generated temporary over pumping was installed to bypass the section of sewer below the depression on the carriageway and ensure properties waste was removed as normal.

Ground conditions have proven difficult as we discovered sink holes and voids under the carriageway at least 2.5m in depth. Ground water became evident and running sand under the roadway. Due to this, we engaged with a Geotechnical Engineering Consultant to carry out further ground testing.

Ground investigations have concluded, and a plan has been designed for the replacement for the sewer.