North Berwick Sewer Upgrade
Sewer pipe on North Berwick beach to get new external coating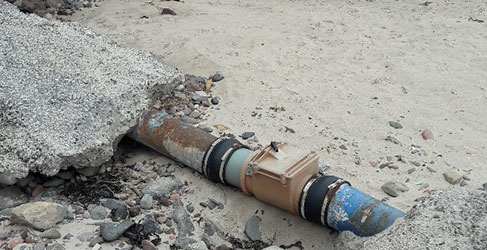 Old drainage connections to be removed
Scottish Water has applied for a Marine Scotland Licence to carry out an upgrade on a 200-metre stretch of sewer pipe on the beach in North Berwick.
The work will involve putting on a new external coating to a section of the sewer and on some of the raised manholes to make them more durable and extend their lifespan.
If this licence is granted Scottish Water expects to start the work early in 2020. The work would be carried out on the West Bay Beach and is due to take around four weeks.
Old drainage connections laid from houses next to the beach front out to the trunk sewer will be removed as the houses private drainage has previously been redirected.
Scottish Water has no plans to change the location of this pipe. Parts of this pipe can be temporarily exposed depending on the weather conditions. Over time the pipe will naturally be covered back over by sand.
The sewer is operating as it should and this work is being carried out to prolong the lifespan of the sewer.
Scottish Water has applied to the Scottish Government for the licence to carry out the work under the Marine (Scotland) Act 2010.
If approved any work carried out will take place during daytime hours and around the tidal zone.