Stronsay Water Treatment Works
Stronsay Water Treatment Works
We have completed our £4 million investment to upgrade and improve the the existing Water Treatment Works on Stronsay
Overview
What are we doing?
We are currently carrying out a £4 million investment in the water supply on Stronsay.
We are upgrading and improving the existing Water Treatment Works on the island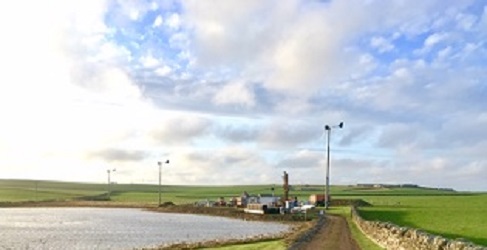 Stronsay Water Treatment Works
Preparing the area for the new treatment units
What does the work involve?
The work at the Water Treatment Works site located to the South of Whitehall, includes the construction of 3 new boreholes to replace the existing ones, construction of a new pipe across the field between the treatment works and our Whitehall Service Reservoir to the North and the construction of a new Transportable Treatment Unit (TTU).
The new TTU is constructed offsite and delivered as a modular unit which is then installed and commissioned. These units contain all the working equipment for the new water treatment plant.
Why are we doing this work
Once the project is complete these works will ensure that we continue to provide our customers on Stronsay with clear, fresh drinking water for many years to come.
Latest Updates
The new Transportable Treatment Units (TTUs) made the journey from Muir of Ord to Stronsay in June 2019.