Lead pipe surveys in the Tighnabruaich area
***Project Update - April 2021***
Based on current Government dates for Covid-19 (Coronavirus) restrictions being lifted we anticipate returning to Tighnabruaich in July 2021 to recommence with water sampling of properties.
To find out more about what Scottish Water's response to the Coronavirus, click here
Scottish Water are carrying out a survey to identify and replace lead pipes in the areas of Tighnabruaich, Kames, Portavadie, Millhouse, and surrounding areas.
This is part of a pilot project to try and remove all the lead from this supply area. Please see below map for the areas covered by the pilot.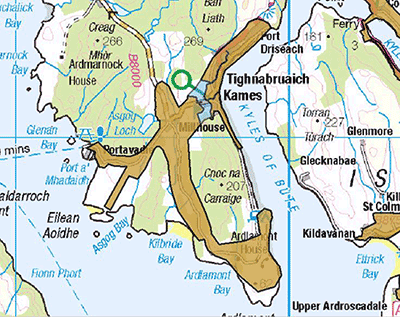 What are we doing?
We are continuing to sample properties across the Tighnabruaich area looking for lead pipes. Where we find evidence of lead piping we will be working with customers to help identify where these pipes are and provide support and advice in replacing them.
This involves water samples being taken from the kitchen tap, and a check of the pipes supplying the property for lead.
If lead is found on the public side of the network, we will replace this. Where it is found on the customer's private pipework leading up to the kitchen tap, we will offer support and advice on replacing it.
Over the coming months, customers may see our contractors Clancy Docwra carrying out small works around the community looking for lead on the network and replacing it.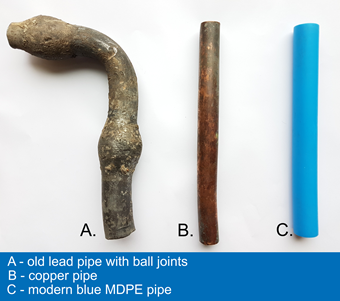 Why are we doing this project?
In Scotland, lead does not occur naturally in water supplies and the use of lead pipes was phased out during the 1960's. This means that if you live in a property built before 1970, there will be a higher chance of you having lead in your plumbing.
Exposure to significant quantities of lead can be harmful to health especially for unborn babies and young children. For this reason, whilst lead levels are likely to be low, it is important that any amount of lead in drinking water is kept to a minimum.
If there are elevated levels of lead in your drinking water this is likely to be caused by the service pipe to your property or your internal pipework.
More information about lead, how it can be identified and the associated risks can be found here: scottishwater.co.uk/lead
Why this area?
This project is part of a pilot trial to remove all lead from the public and private supply in an area. The area supplied by the Tighnabruaich Water Treatment Works is expected to have a very low level of lead supply pipes making it a good area to test whether the small amount left can be removed effectively.
When collecting your sample you will be asked if you would like to participate in customer research about the sampling and lead removals process. You can opt out of this research at any time by contacting: customer.experience@scottishwater.co.uk
Do you own a holiday home, have any questions, comments or concerns?
Scottish Water is committed to protecting your data and information. Our privacy notice explains how Scottish Water uses personal data collected by Scottish Water. It also sets out our commitment to safeguarding personal information held about individuals - it does not apply to information we hold about companies and other organisations. Any personal data you give to Scottish Water will be processed in accordance with current UK Data Protection laws. You can read our
Personal Data Policy here
.