Tomatin Water Treatment Works
Scottish Water is investing £5M to take care of Tomatin's water supply.
Tomatin's existing Water Treatment Works (WTW) was commissioned in the 1980s and is now coming towards the end of its operational life. The new WTW is designed to ensure that Scottish Water can continue to provide clear, fresh drinking water to customers in Tomatin for many years to come.

The utility's delivery alliance partner Efficient Service Delivery (ESD) has been developing proposals for a new Water Treatment Works (WTW) to serve around 800 customers in the village. The new Works will be sited close to the existing borehole and WTW, on the west side of the river a short distance south of Findhorn Bridge.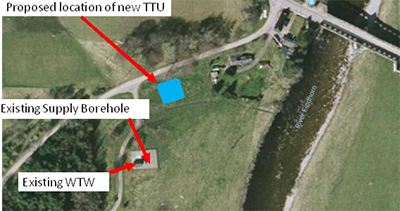 Ariel view of water treatment works

The new Water Treatment Works will use a transportable model that has been developed in partnership between Scottish Water and Ross-shire Engineering for use in rural communities which significantly reduces the construction time on site and the total amount of traffic involved with the project.

The WTW has been assembled and tested at Ross-shire Engineering's specialist factory in Muir of Ord, and is shortly due to be carefully delivered in four separate units and installed at its long term home. The deliveries are due to take place over the course of week from March 16, 2020. While other HGV construction traffic has been accessing the site from the south, the size of these units means they will need to turn off the A9 north of Tomatin and travel through the village.

The deliveries have been carefully planned by RSE and their specialised haulier, in consultation with the police, to ensure they can take place safely – and the final leg of their journey will be made at low speed. There may be short delays as they complete the final turn into the site entrance from the glen road. We are grateful for the patience of road users and residents while we complete this essential stage of the project.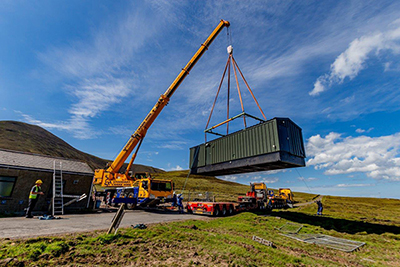 Delivery of a rural Water Treatment Works of similar size and appearance to the one that is due to be delivered at Tomatin.
Work on the project is expected to be completed by the end of 2020.
Engaging the Local Community
A drop-in information event was held at Strathdearn Millennium Hall from 4pm until 7pm on 27 February, 2019 to enable residents to view the proposals and speak to the project team. The information that was on display at the event can be found in the
Document Hub.