Blog: Play Your Part and Be Water Smart - Brian McCarthy
02 May 2019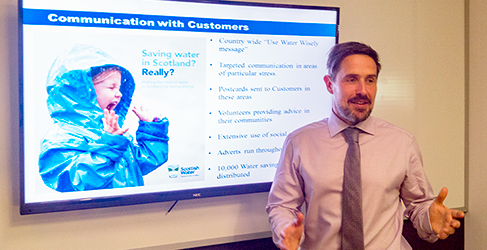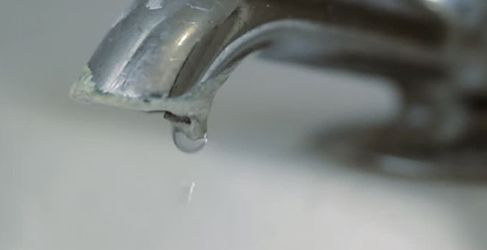 "Don't think about the water you use, think about the water you waste, and pledge to make some small changes."

Brian McCarthy
SCSP Reservoirs and Supply Demand Manager
This is the 5th year of Water Saving Week organised by Waterwise, and from my perspective the message of water efficiency is becoming ever louder. Here at Scottish Water, my team have worked extremely hard in the last few years to develop a simple message around using water wisely by making small changes, and they have succeeded. "Play your part, be water smart!"
Drip
The team has focussed hard on the link between water use and energy consumption. Using water wisely uses less energy, so we protect the local environment and reduce our own, and Scotland's, carbon footprint. We all have the ability to make small changes within the home, so think about the hot water you are using within the kitchen and bathroom.
Drip
Less than 1% of rainwater ends up somewhere Scottish Water has access to it. This fact always amazes me, but our catchments are pretty small in comparison to the land mass of Scotland. The fact that Scotland is seen as a place where it rains a lot makes the job of influencing people that little bit harder, but we simply don't have access to it all.
Drip
I have some influencing to do myself. When I take a shower I am in there for a few minutes, so I use about 40 litres each time. But others in my house can be in there for half an hour. That's about 180 litres, which is more than the average person uses in a whole day. I don't want to stop anyone having a long shower if that's what you enjoy, or need. But if we all try to reduce by a minute, it would make a difference. And don't get me started about running the tap when people brush their teeth!
Drip
So who noticed the drip?

Many people leave the dripping tap till tomorrow and before you know it a week has passed, and then a month. Consider the waste that could be saved if we all did our bit to stop it. Over a day a dripping tap wastes about 15 litres of water. Over a year, that amounts to more than a family would use in a week, and it could be even more if it was a leaking loo!

If I leave you with one thought, it's don't think too much about the water you use, think about the water you waste, and pledge to make some small changes.

Please get involved in Water Saving Week and share what you learn with your friends and family. Every small change will help us move to a Scotland where customers are enabled and proud to use water wisely.