Great Glen £21M Investment Underway
21 October 2018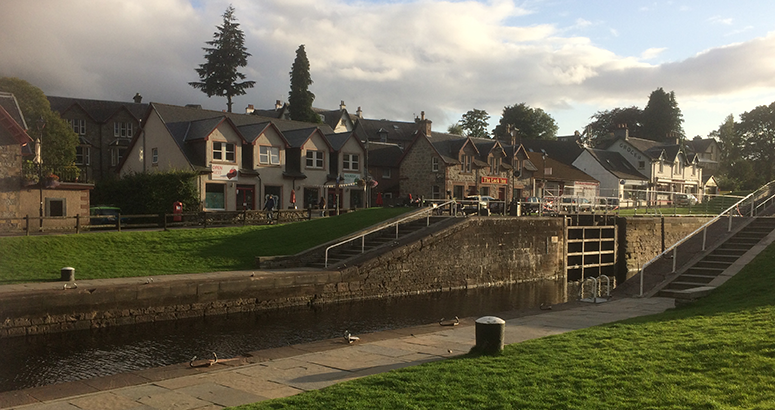 Great Glen Phase One
Work is underway to install a 315 metre drilled twin pipe crossing beneath the Caledonian Canal and the River Oich
The first phase of a £21 million project which will provide a single, improved water supply for Scottish Water customers in Fort Augustus and Glenmoriston is underway.

Work has started at the top of the canal locks in Fort Augustus to complete a 315 metre drilled twin pipe crossing beneath the Caledonian Canal and the River Oich. The crossing will provide a greatly improved connection between the north and south of the village, as part of a wider package of improvements that will be delivered by Scottish Water's alliance partner ESD.

By 2020, a new state of the art Water Treatment Works will be in place just south of Invermoriston to provide both communities with a high quality and resilient supply of clear, fresh drinking water from Loch Ness. A new water main will connect Fort Augustus and Invermoriston for the first time, largely following the route of the Great Glen Way.

ESD's Project Manager for the work Kelton Bennett said: "We are pleased to have started with the first stage of construction in what will be a significant project for the area.

"The river and canal crossing in Fort Augustus is a key link in the village's water network. The new twin crossing will be drilled about 10 metres beneath the bed of the canal and the river, providing a big improvement to security of supply for Scottish Water customers in advance of our other work.

"We have engaged actively with the local community to plan this work outside the peak tourism season. We have also worked with Scottish Canals and Historic Environment Scotland to ensure there is no disruption to the canal, which is a scheduled ancient monument as well as a busy waterway."

Scottish Water Corporate Affairs Manager Gavin Steel said: "Fort Augustus and Glenmoriston experience significant seasonal variations in their population as a result of tourism. The investment we are delivering will make sure that we can provide customers with clean, fresh and great-tasting water from Scotland and the UK's largest water source. It will also ensure we can support growing communities and economic development in the heart of the Great Glen.

"Our work will bring lasting benefits to communities and the economy that sustains them, but we recognise construction activity will cause some short term disruption. We have been working actively with the community over the last year to plan work and keep any inconvenience to a minimum."

Following consultation with local residents and businesses last month, plans are progressing well for pipe-laying work to begin after the October holidays. To allow this work to take place safely, sections of the lower route of the Great Glen Way will need to be closed over the course of the winter with diversions in place.

Further information will be made available before the work begins.