Essential Upgrades For Isle of Islay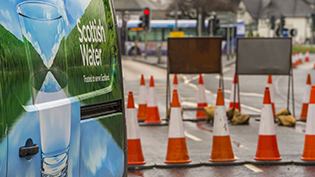 Investing in Islay
As work is taking place at our Torra Water Treatment Works, no roadworks will be necessary.
We're investing around £60K in our water infrastructure on Islay.
Work begins on Monday 25 May and involves upgrades at Torra Water Treatment Works which serves around 1,900 customers in the Bowmore and Port Ellen areas.
Four filters will be replaced at the works. Taking around three days for each filter to be replaced and then a further ten days for each of them to be tested, it is anticipated that this work will take around eight weeks for completion.
While Scottish Water's capital investment programme has temporarily halted to protect public health and limit potential further spread of the Coronavirus, in line with government guidance, works which have a critical impact on core water supply or waste water management are continuing.
We have a vital role to look after everyone's water supply and this work in Islay is critical to ensure customers on the island continue to enjoy clear, fresh drinking water.
Scottish Water employees will be visible in the area carrying out this essential work. To protect both public health and our employees, they will adhere to government guidelines on social distancing.