Balerno Water Network Improvements
***Project Update - March 2020***
Due to the ongoing Coronavirus (Covid-19) outbreak, this project has been paused. We will let customers know when the project is resumed.

To find out more about Scottish Water's response to the Coronavirus, click here.
Overview of work:
We are installing a new pipe along Bridge Road and Lanark Road West to improve the water supply to customers in nearby areas now and in the future.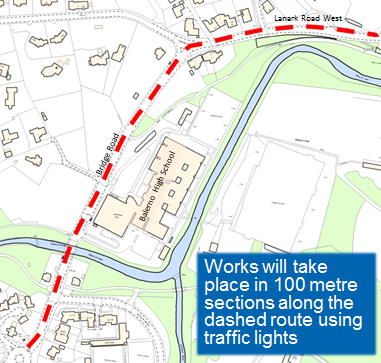 During the project we will be working from the from the roundabout at the south end of Bridge Road, up to Lanark Road West and travelling eastbound to the junction with Sommerville Road.
To minimise disruption the work will take place in 100 metre sections and the traffic lights will be manually controlled during peak hours. The team will also be taking advantage of the longer summer days by working longer hours in an effort to complete the project as quickly as possible.
Once the pipe has been laid, we will have to carry out further works along the route of the pipeline to connect customers to the new supply.
The new 700 metre long, 250mm diameter plastic pipe replaces a 60 year old cast iron pipe which has come to the end of its serviceable life and is the source of low pressure issues in nearby areas.
We will be updating this page regularly with our progress.