Blackbraes Roundabout Closure
Scottish Water is advising road users of a four week road closure on Blackbraes Road between California and Avonbridge, south of Falkirk.
A full road closure will be in place from 7th September at the roundabout on the B8028 Falkirk Rd, Blackbraes Road and Boxton Road. A diversion will be in place through Avonbridge and California in place for the duration. The diversions will impact road users travelling between Shieldhill, California, Blackbraes and Avonbridge. The start date was delayed due to a operational issue but we still hope to complete the works within the original timescales.
The work is part of a project to upgrade the water pipes to allow a number of new houses to connect to the public water supply.
The new pipes are to be installed under the roundabout to allow connections to the existing pipes which are supplied by the nearby Greyriggs service reservoir. As such all roads to the roundabout need to be closed.
Greyriggs service reservoir supplies water to more than 2000 customers/properties living in Avonbridge and Standburn areas.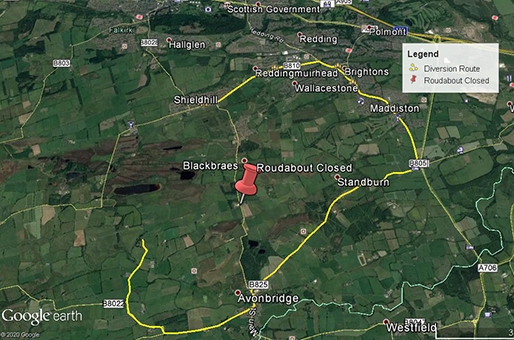 map of closure - diversion shown in yellow (Click to enlarge)