Water Network Improvements Bothwell Road, Aberdeen
Essential Water Network Improvement Works in Bothwell Road, Aberdeen
Scottish Water are carrying out essential improvement works to the water network in the Bothwell Road area of Aberdeen as part of our vesting process.
Vesting is the process whereby transfer of ownership of an asset takes place from one party to another. Before the vesting process can be completed we need to ensure that the network meets required construction standards and specifications, prior to Scottish Water taking over ownership, operation and maintenance.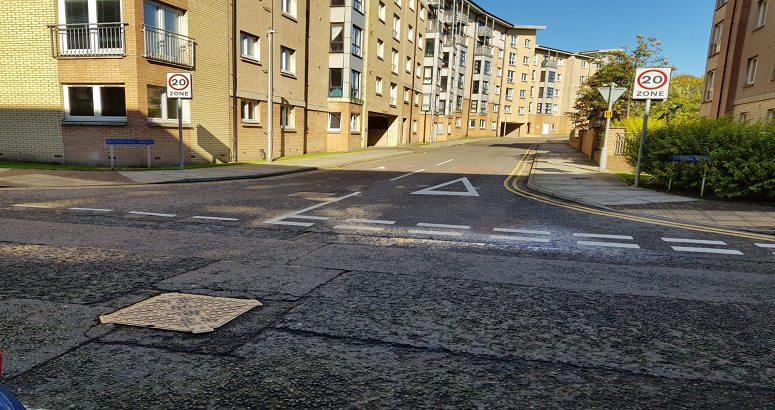 Bothwell Road, Aberdeen
Water Network improvement works will take approximately 2 weeks
What you need to know:
Work will start on Monday 28th September 2020 and is expected to take approximately 2 weeks. All works will be carried out Monday to Friday between 07.30 and 18.00hrs.
These works will involve:
The extension of the existing water main on Bothwell Road and connection into the existing main on Constitution Street. This will include the installation of water valves on Constitution Street opposite the junction with Bothwell Road.
A new water valve will be installed on the footpath of Bothwell Road opposite the junction with Frater Place.
Connection of the water main located on the footpath on the opposite side of the carriageway from 42 Bothwell Road.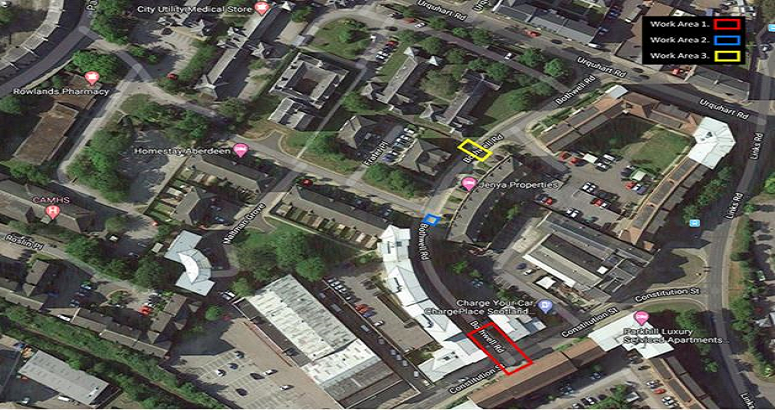 Bothwell Road Plan
Work locations in Bothwell Road
How this will affect you:
Bothwell Road will be closed throughout the duration of these works, however, local access will be maintained where possible.
Local diversions will be in place and temporary traffic lights will be erected at the junction of Bothwell Road and Constitution Street.
Access to driveways and parking bays will be maintained during these works. However, there will be no access to the Pay & Display parking bay located on Constitution Street in close proximity to/opposite the junction of Bothwell Road.
During these works, we may need to interrupt your water supply. Should there be a need to interrupt the water supply to your property, we will provide you with a minimum of 48 hours notice of any planned interruption to supply.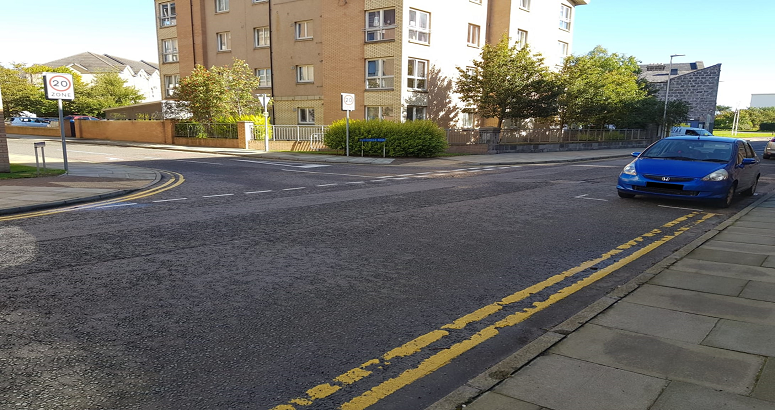 Constitution Street Junction
Part of the work will take place at the junction of Bothwell Road and Constitution Street
Further Information:
The road closure will be in place on Bothwell Road between Constitution Street and Urquhart Road. Permitted access shall be for local residents on Bothwell Road, Frater Place and Maltman Grove only.
Diversion signs will be in place during these works, please follow all signage.
A 2-way traffic light system will be in operation on the carriageway at Constitution Street opposite the junction with Bothwell Road.
The carriageway on Constitution Street will be reduced to one lane opposite Bothwell Road. On-street parking will not be available at this location throughout the duration of these works.
Our contractor Clancy Docwra will be carrying out these works on our behalf and will do everything they can to minimise disruption caused by these essential works. During these works they will also observe current Scottish Government Covid-19 (coronavirus) guidance, to ensure that the health and wellbeing of our employees and customers is effectively managed whilst on-site; including the wearing of personal protective equipment and adherence to social distancing guidelines.

Any questions relating to these works please contact our Customer Contact Centre on 0800 0778 778, quoting reference PVC/STEW88A/Clancy Docwra.