Drumnadrochit Water Network Upgrade
Project Overview
We are carrying out the second and final phase of an upgrade to Drumnadrochit's water network to support the village's growth, while continuing to provide clear, fresh and great-tasting water to all customers.
The project is being delivered by our contractor Mackenzie Construction.
At a Glance
Water network upgrade

Delivered by Mackenzie Construction

Approx 6 months to complete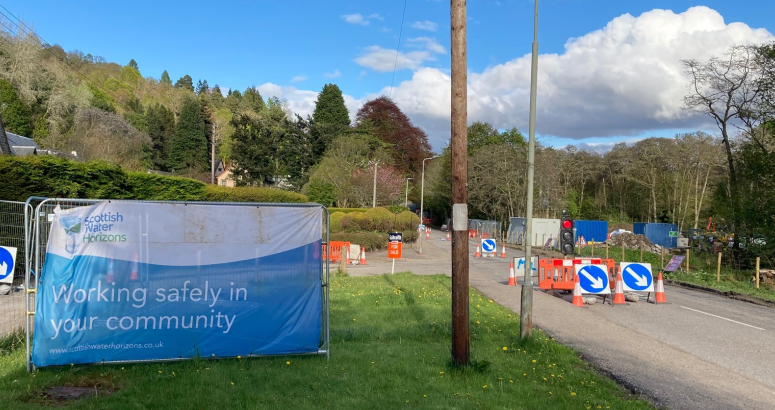 Investing for the future
The first phase of water network upgrade was delivered at Kilmichael during 2021
What We Are Doing
Following the completion of the first phase of water network upgrade in 2021, covering around 360 metres of water main along the A831 near Kilmichael, work on the remaining phase begins on Tuesday 18th January.

Our site team will be upgrading a further 710 metres of water main, connecting the previous work at Kilmichael with a location on the A82 near to Druimlon.

In order to maximise progress during the early part of the new phase, there will be two teams working within the village: one working on the A831 towards its junction with the A82; and the other starting near Druimlon and progressing back towards the village green.

Once the remaining A831 section is nearly complete, work will become focused on a single, central section to cross the A82 bridge over the River Enrick and work along the remaining section of the A82.

Temporary traffic lights will need to be used to allow work in the road to take place safely. The site team will do all they can to keep delays for road-users to a minimum. Some planned interruptions to water supplies will be needed to allow the upgraded water main to be brought into service. We will give customers at least 48 hours' notice where there is a need to interrupt their supply, including more detailed information and advice.

A pause in work has been planned for the Easter holiday period to minimise disruption for traffic and local businesses over this busier period.
Why We Are Doing This
There has been significant development in Drumnadrochit in recent years, with further development both underway and planned. This upgrade is needed to ensure that the village's water network can support the community's growth and continue to serve our existing customers well.