Work is to start on a project to improve the resilience of the water supply in Dumfries after having experienced a particularly dry period over the past few months. Work began on 22nd June and is expected to take around 2 months to complete.
The project involves the installation of around 1.5km of water pipes to enable customers in the Heathhall area – who are currently fed from Black Esk Water Treatment Works - to be able to be supplemented with supplies from Killylour WTW when required.
The new pipeline will run along the Caledonian Cycleway from Marchfield Road area up to Tinwald Downs Road. During the work there will also be some traffic management an a lane closure on the A75 to enable the pipe to safely install under the carriageway - This will be done over 3 weekends, the first being from Friday 3rd July - Sunday 5th.
There will also be some traffic management on Marchfield Road from Thursday 16th July for approximately a week.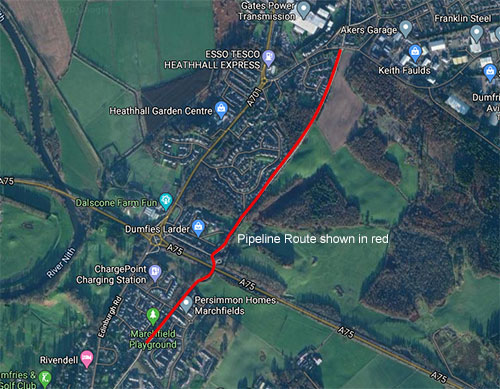 We realise that this is a popular area with many people and we will do all we can to keep any disruption to a minimum. We thank everyone for their patience while this essential work is carried out.
We will be working within guidance set out by the Scottish Government as part of the ongoing Covid pandemic.