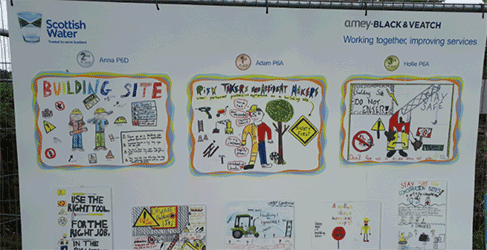 Site Safety artwork from Our Lady of the Missions Primary School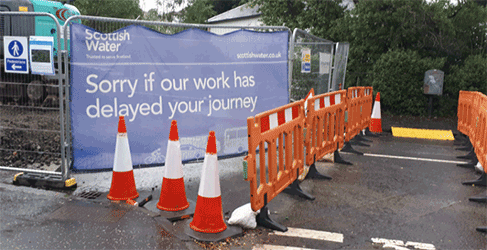 Signage at Roadworks
We are working hard to protect and enhance the natural environment in Scotland. We are improving waste water services in Giffnock by increasing the capacity of the sewers. This will help prevent flooding in the area and improve the water quality of the Bagabout Burn & the Otter Burn.

The tunneling works have encountered harder rock which has slowed down the tunneling operations. This has resulted in the project being delayed with the anticipated completion date now March 2020 for the whole project.

A section of Robslee Road between Moorburn Ave and Moorburn Lane will be closed to through traffic from Monday 6th January to end of February 2020. A diversion route will be in place via Heathwood Drive.
We require to construct the storm sewer across Robslee Road. To do this safely we require to close off a small section of Robslee Road. A short diversion route will be in place. (Local access will be provided to residents in the road closure area).
We require to excavate a pit for a manhole at the end of a tunnel drive. This work involves piling sheets into the ground to make the ground safe for the excavation work.
There will be an increase in traffic on Heathwood Drive during this period.
Some bus services will be required to be modified. Please check with your bus provider for further details.
Your water supply will not be affected during this period and toilets and sinks can be used as normal.
Woodfarm Pavilion Playing Fields:
Our sewer infrastructure installation work is complete, we shall start the cultivation and sowing of grass seed at the end of March / early April 2020 when the growing season starts.
We require to temporarily fence off the grass seeded area after the work to allow the grass seed time to grow and not be disturbed. The area could be temporarily fenced off up to Autumn 2020 as grass can take several months to fully establish.
If you have any questions about Scottish Water or the project, please call our Customer Helpline on 0800 0778778 quoting reference "Capital/403244/aBV"