What we are doing
Scottish Water is investing £3.5m in improvements to its waste water infrastructure in Paisley to help improve the water quality and natural environment in the White Cart Water.
The installation of better screening and new pipework will improve the environment on the White Cart Water, and in turn the River Clyde, benefiting aquatic life, flora and fauna. These latest improvements will bring even more benefits for the local environment by reducing the frequency and volume of waste water spillages into the White Cart Water in storm conditions.
Work will involve the upgrade of a Combined Sewer Overflow (CSO) in Seedhill Road and infrastructure improvements in part of the adjacent East End park.
When we are doing it
Work originally started on 3rd February 2020. Due to Covid-19 restrictions work restarted on 15th June 2020. The project is being delivered by our contractors George Leslie and is expected to be completed by spring 2021.
During this time there will be periodic closures on Seedhill Road and some traffic restrictions imposed on Mill Street. All restrictions/closures will be notified in advance and diversion routes clearly signposted. The children's play park near Mill Street will be available to use as normal.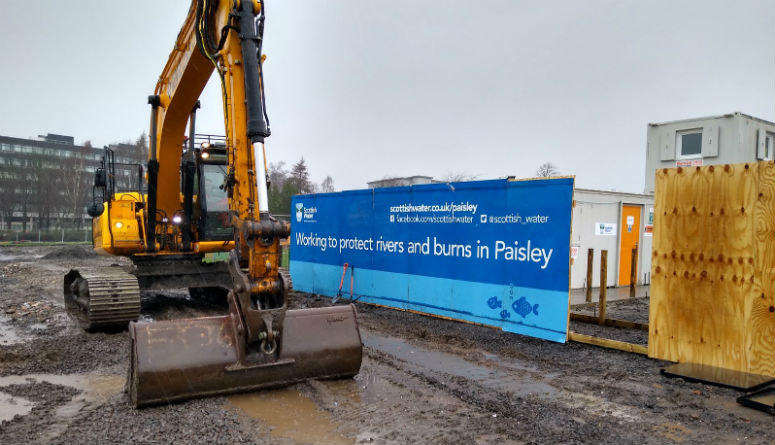 Latest Updates
February 2021
From Monday 8th February, the southbound carriageway of Mill Street will be closed at its junction with Seedhill Road for around two months. Traffic will be diverted onto a contraflow on the northbound carriageway during this time.
January 2021
The latest phase of works, which involves upgrades to a Combined Sewer Overflow (CSO) in Mill Street and improvements to the waste water infrastructure in Seedhill Road, began on Monday 11th January 2021.
From Monday 11th January, Seedhill Road will be closed at its junction with Mill Street for approximately three months.