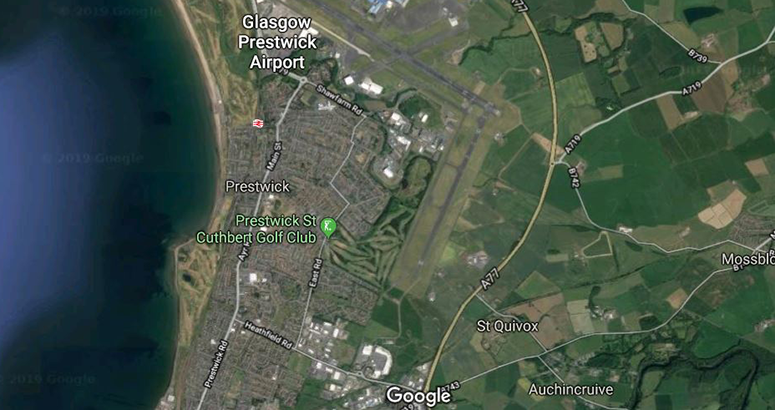 Working Together
A Strategic Flooding Stakeholder Group has been set up to ensure collaborative working during the Prestwick Drainage Study.
Tackling Flooding in Prestwick
Update 22nd May 2020:
Temporary storage area at Brandon Gardens:
The majority of Scottish Water's capital investment programme has temporarily halted to protect public health and limit potential further spread of the virus, in line with Scottish Government guidance. We have been focusing on essential work to keep our water and wastewater services operating.
After yesterday's announcement by the Scottish Government on phased easing of restrictions due to COVID-19, Scottish Water is reviewing its plans for a phased restart of its capital programme. This is a considerable undertaking across all of our Capital projects Scotland wide. As part of this we are engaging with our supply chain and delivery partners and we will be in a better position to provide you with an update on the recommencement of our project works in Brandon Gardens within the next 2 to 3 weeks.
Please be assured we are committed to restarting our project at Brandon Gardens as soon as possible within Scottish Government guidelines.
Speed tables:
Ayrshire Roads Alliance, following on from the First Ministers announcement on Scotland's route map through and out of the current lockdown, will be looking to undertake a phased return to all works across Ayrshire in line with Scottish Government Guidance and are not able to programme the speed tables at the moment.
Update 5th March:
Scottish Water is committed to working with the community and partner organisations to reduce the risk of sewer flooding in Prestwick.
Public Consultation around the Speed Tables is now complete and Ayrshire Roads Alliance has confirmed they will now be installed during April. Ayrshire Roads Alliance will contact residents separately to provide more details on the timetable for each affected street.

The tree removal planned for 28th February did not happen due to miscommunication. Construction of the temporary storage pond in the area to the rear of No. 19 Brandon Gardens will however proceed as originally planned. New arrangements will be made to remove the trees at a later date as this is still required for the permanent storage.

A high level Optioneering workshop was held as part of the Prestwick Strategic Study on 28th February. This allowed the Stakeholder Group to identify a long list of options to reduce flooding across the town. Scottish Water and our consultant will now investigate the long list of options identified and report back to the Stakeholder Group in June.
Update 24th January:
Speed Tables
Ayrshire Roads Alliance have highlighted that installation of the Speed Tables will now be delayed for approximately 28 days to allow for Statutory Public Consultation. Ayrshire Roads Alliance will notify affected customers by letter to outline the delay and provide details of the revised programme

As the speed tables were being installed to reduce flood risk it was initially interpreted by Ayrshire Roads Alliance that informal public consultation would satisfy all procedural requirements. On this basis informal public consultation was undertaken around installing the speed tables.

Ayrshire Roads Alliance have subsequently undertaken an internal review of the works. This highlighted that formal statutory public consultation would be required even if the works were for flood risk and not traffic calming.

On that basis the formal statutory consultation has been commenced and Ayrshire Roads Alliance have issued letters to affected customers today (24/01/20).
Update 20th January:
Investigation works to commence on Brandon Gardens and St Nicholas road.
Over the coming weeks we are carrying out investigation works which will help us inform the design and implementation of improvements to the local sewer network. We will be working on St Nicholas Road and Brandon Gardens and the grassed land between 19 Brandon Gardens and the railway line.
Investigation work is to commence on Brandon Gardens and St Nicholas Road from 3rd February 2020 for 2 weeks. Some on-street parking restrictions will be in place during the works and temporary cones around the works.
A temporary pond is to be constructed on the grassed area to the rear of 19 Brandon Gardens from 29th February for 3 weeks.
The investigation works require trial pits to be dug in the ground to confirm the location of existing services and manhole levels. The ground will be reinstated upon completion.
In order to carry out the works safely, we need to set up traffic cones and areas of parking restrictions around the works. Advance warning signs will be erected on lampposts for the areas and dates to be affected by the parking restrictions.
BT require to divert an existing cable from the 27/1/20 to make space for the new sewer infrastructure. This work will involve a section of the footpath/road being excavated.
Some trees in the grassed area require to be removed to make space for the new pond. This work will be carried out on Saturday 28th February 2020 for 1 day. This work is required to be undertaken on a Saturday as Network Rail need to shutdown the overhead power cables.
Full pedestrian access will be maintained & access to driveways will be maintained.
Update 20th December:
PPE (ABV's subcontractor) will be out during the festive period to remove the section of wall within the garden of 19 Brandon Gardens to allow access to the section of land behind.
BT will not yet confirm a date to carry out the diversion works as the cheque from Specialist Services Delivery Utilities has not yet cleared but they did advise it will be sometime in January which will allow SOS early Feb for the temporary storage.
It was also hoped that existing trees could be removed during January but this looks like it will not now happen until March to suit Network Rail possession and isolation of overhead line. The temporary solution will work around this.
Update: 20th November 2019
We are progressing with the purchase of the land for the temporary flood storage area, including arranging an early access agreement. During our site investigations and discussions with Network Rail it has come to light that we will have to remove 2 trees which, if not addressed, could create a risk to the nearby rail line with construction of the proposed storage. While we always look at ways of avoiding tree removal on this occasion it is not possible. We will look at planting new trees in a different location moving forward to offset this necessary action.
Scottish Water remains committed to delivering on the promises we made to progress and deliver short and medium measures to reduce the sewer flooding risk at Brandon Gardens & St Nicholas Road, Prestwick and also our commitment to develop, in conjunction with stakeholders, a long term strategic plan for the wider Prestwick sewer network. Since we shared the detail of our proposals at the Residents Meeting held on 5 September, we have:
Been progressing with the purchase of the land for the temporary flood storage area, including arranging an early access agreement;
Finalised the details of the speed tables and passed this over to the Ayrshire Roads Alliance to progress implementation;
Investigated and installed mitigation measures in the form of NRVs fitted to the lateral sewer connections on a number of properties in Brandon Gardens & St Nicholas Road;
Progressed the detailed design of temporary flood storage area, including liaising with affected residents, and have submitted the planning application as required by the Local Authority Planning Department;
Continued to develop the detailed design of the sewer network storm storage pipe nest and pipe upsizing works that will form the medium term solution to reduce sewer flooding risk;
Continued to progress with assessing the data collected by the recent surveys and are incorporating these into the sewer network hydraulic model as part of the model update and improvement works.''
How does the sewer system in Prestwick operate?
The sewer system in Prestwick is predominantly a combined sewer system
Collects wastewater and rainfall in the same pipe – from properties and roads
Flows from Prestwick are pumped through a number of pumping stations along the coast to Meadowhead WwTW for treatment and discharge to the Firth of Clyde
Why does flooding occur?
Increasing pressures upon a combined system:
urban development creep – including paving over green space for parking, construction of housing extensions and patios
development and growth of town
changing weather patterns from impacts of Climate Change
The effects of these factors, over time, have led to an overall under capacity in the combined sewers system and means that sewer flooding can occur at several locations within Prestwick at times of heavy rainfall

Sewer flooding is generally rainfall driven – sewers have a finite capacity and intense or prolonged rain storms can overwhelm the public sewer network
Who is responsible for flooding?
Flooding is complex, can involve more than one source and mechanism, with many organisations responsible for different parts of the urban drainage system:
Scottish Water is responsible for the public sewer network (foul , surface water and combined sewers)
South Ayrshire Council is responsible for roads drainage, and managing flood risk from surface water and watercourses
SEPA is responsible for providing flood advice and flood warnings
Land and property owners are responsible for taking measures to protect themselves.
How are we going to address Sewer Flooding?
Resolution will require a longer term phased approach with a range of interventions to reduce the sewer flooding risk in Prestwick
Working with the other organisations and communities is key to managing flood risk going forward
What is the Prestwick Strategic Drainage Study?
Include investigation on all sewer flooding locations in Prestwick
Previous investigations have focused primarily on properties at risk of internal sewer flooding
Identify interventions to alleviate sewer flooding which could be delivered in a phased manner to address short and long term flood risk reduction
Strategic delivery plan for phased reduction of flooding will be directed by Stakeholder Group
Prestwick Strategic Flooding Group
Scottish Water has set up a Strategic Flooding Stakeholder Group which will be chaired by constituency MSP John Scott. This group will include members of Scottish Water, the local authority as well as community and elected representatives.
The group has been formed to ensure we are working collaboratively whilst we progress the Prestwick Drainage Study and to allow representatives of the community to input and provide feedback as the Drainage Study progresses.
Prestwick documents
Further info on tackling flooding in Prestwick
Click here