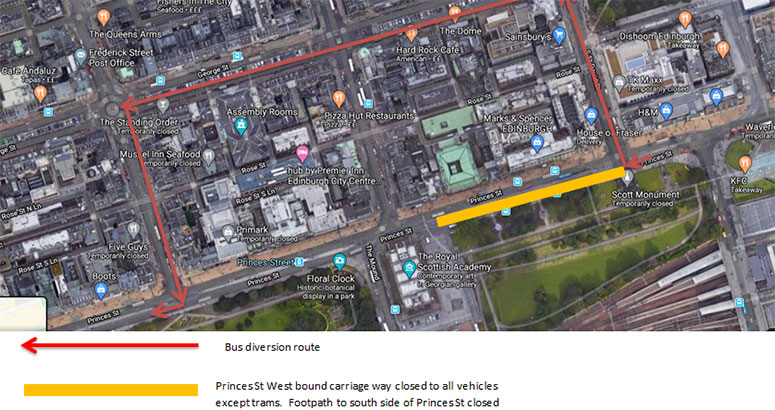 Essential repair work in Princes Street
All traffic, except trams, will be diverted as shown
A section of Edinburgh's Princes Street is to close for a fortnight for essential repair work to be carried out.
The westbound carriageway from South St David Street to the Mound will be closed from Monday June 15.
The closure will allow Scottish Water to carry out a repair to a section of the road and pavement which has become depressed..
Trams will continue to operate in the area but all other traffic – including buses – will be diverted (up South St David Street and along George Street and down Frederick Street). The pavement on Princes Street next to Princes Street Gardens will also be closed.
We repaired a burst water main in the area in 2017. A depression has appeared in the road and the utility is re-entering the site to make the road level. It will add additional concrete to repair the surface along a 10-metre long stretch of the road at a depth of around one metre.
We have liaised with City of Edinburgh Council's roads department and tram, bus and taxi operators in the Capital ahead of the work. The essential repair is being carried out during the ongoing Covid-19 pandemic when the roads are quieter and many businesses including shops, bars and restaurants, remain closed.
We ask road users and pedestrians who will be in the area to follow the road traffic management which will be in place and to plan their journeys accordingly. The road closure is needed for the safety of the public and our staff on site.
We will be working within guidance set out by the Scottish Government as part of the ongoing Covid pandemic. Our staff will be wearing extra personal Protective equipment and adhering to social distancing guidelines.
We will do all it can to keep any disruption to a minimum and apologises for any inconvenience this work will cause.
There will be a requirement to undertake work for two nights (between approx. 12 midnight to 5 am). Work will also take place over the weekend.There will be some noise during this work and Scottish Water will do all it can do keep this to a minimum. Fencing and safety banners will be put up around the excavation site for the duration of the work.