Old Flintmill - River Kelvin
Near the Old North Woodside Flintmill (off Belmont Street) Off Garriochmill Road, North Kelvin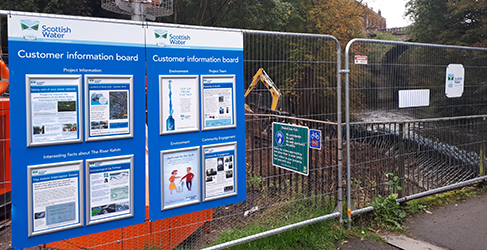 January 2021 Update
We are currently finishing off the work behind the temporary dam area in the River. We have had to use these pumps extensively to pump out water from behind the dam. We are requiring to use the pumps for longer than anticipated. Poor weather has delayed the work to clad the headwall and install the scour mattresses on the river bank to protect the river bed from erosion.
The main sewer infrastructure works are expected to be completed by April 2021. Landscaping and reinstating paths will be carried out in February with grass seeding in the Springtime 2021.
What we are doing
We are installing an underground chamber with a mechanical screen to filter out and prevent the items such as rags, wet wipes that are wrongly flushed down the toilet from overflowing into River. We need to connect to the existing sewer by installing a new section of pipework. We also need to abandon the existing storm outfall pipe at this location and install a new one slightly further downstream.

We have installed a temporary dam. The dam is to allow the team to work safely and construct the new retaining wall and headwall. The dam will be removed once the headwall work is complete. Adverse weather conditions during the winter months made working conditions extremely difficult, causing a slight delay to this part of the project.
Posters for information on our archaeological dig and parking restrictions can be found in our document hub.
Discover More