Stantling Craig Reservoir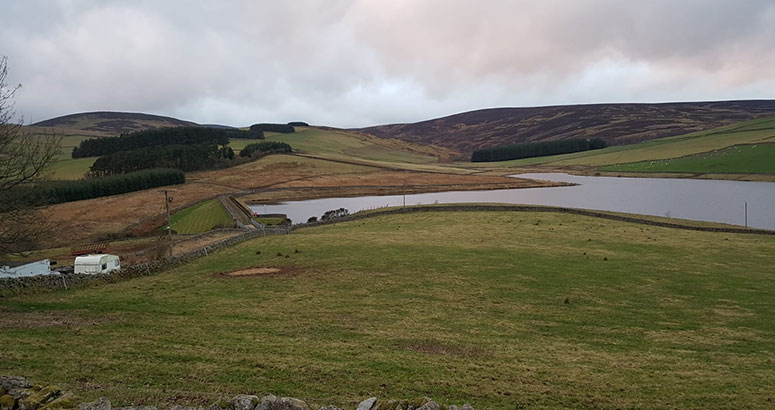 Stantling Craig Reservoir
Works are expected to start in April 2022
The decision has now been taken to postpone this drawdown work for a year with the aim to recommence in April 2022.
Due to ongoing Covid guidance all non-essential Scottish Water work continues to be delayed. As a result, Scottish Water has had to prioritise work and postpone or rearrange timelines for various planned projects countrywide. This has led to us postponing this work until April 2022.

Scottish Water has been asked by SEPA to look at ways to improve fish passage at Stantling Craig to reopen access from the sea, for Atlantic Salmon and Sea Trout, to spawning habitat in the upper Caddon Water currently isolated behind the dam. This project forms part of a study to look at whether it would be possible to remove the dam and reservoir entirely. The study is one element of the decision-making process to collect evidence to inform the case for or against the removal.
The temporary draining and inspection of the reservoir requires work to start in early spring to mitigate risk to nesting waterbirds. This work is needed to assess the condition of the dam and the amount of silt behind it to establish the feasibility of possibly breaching the dam.
A potential change to the landscape of this magnitude is a complex decision and we continue to encourage input from stakeholders who live or visit the area. SEPA, which has the final decision on whether the dam will be breached, has been notified of this delay.
Stantling Craig is a compensation reservoir built in the late 1800's to help balance the water flows downstream from the intake which supplies Manse Street Water Treatment Works. We are decommissioning Manse Street Water Works - meaning the reservoir will no longer be needed for that purpose. This project is continuing and should be completed as planned next year.
We will continue to work with and update the community on this issue.
Feedback
We want feedback from our customers and stakeholders on their views of this proposed work. Please use the below form to provide feedback.
Scottish Water is committed to protecting your data and information. Our privacy notice explains how Scottish Water uses personal data collected by Scottish Water. It also sets out our commitment to safeguarding personal information held about individuals - it does not apply to information we hold about companies and other organisations. Any personal data you give to Scottish Water will be processed in accordance with current UK Data Protection laws. You can read our
Personal Data Policy here.