Work started on the 12th October 2020 and is expected to take approximately 6 months to complete
Work will consist of the construction of a new CSO chamber with a powered screen and associated pipework.
Closure of car park at Spylaw
A site compound will be situated at the Spylaw carpark. Unfortunately this will mean that for the duration of the project, the car park will be closed during the week but will opened at the weekends. There will be diversions in place for pedestrians and cyclists.
To enable the safe delivery of materials to the construction area, there will be a convoy system in place along a 1km stretch of the walkway. All materials will be taken by tractor and trailer under vehicle escort. This will be between the site entrance at Spylaw Car Park and the construction site at Colinton Dell. A temporary footpath will be provided for pedestrians and cyclists to maintain access past the working area.
We are aware that visitor numbers along this stretch of the Water of Leith walkway is very high, especially during school holidays and with the added attraction of the Colinton Tunnel. We are working with the project team to minimise the impact of the work on it. We do, however, remind people that this is a working construction site and ask that the public be careful and stay safe when visiting and moving through the site.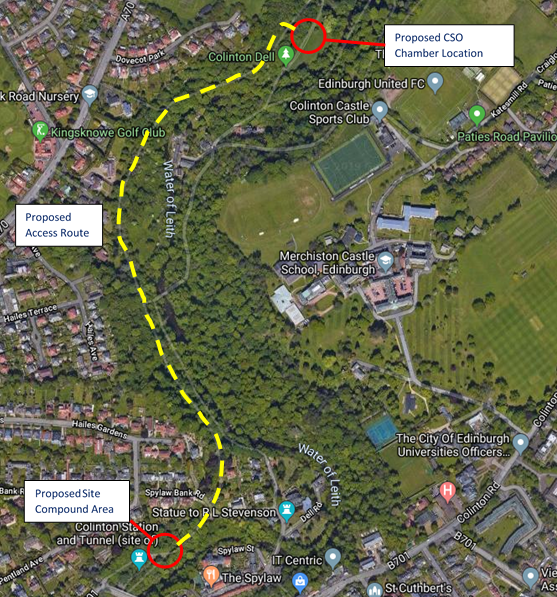 Parking around Dovecot Grove
Due to COVID-9 restrictions and the unique challenges that this site presents we have had to change our plans to get our workforce to the site. Originally we had proposed to transport workers by minibus but now this is not possible so individuals will be required to arrive by their own transport. Having looked at options the most workable one was to get the site team to park along Dovecot Grove/Loan and walk to site as this is the nearest on-street parking available.
You will see an increased number of approximately 8 vehicles parking in the area – notably Dovecot Grove and Dovecot Loan - These will be there from about 7am until 5pm.
Our site team will endeavour to keep any noise of arrival and departure to an absolute minimum and will take care to park in a considerate way making sure that access to all residential driveways will be kept completely clear.