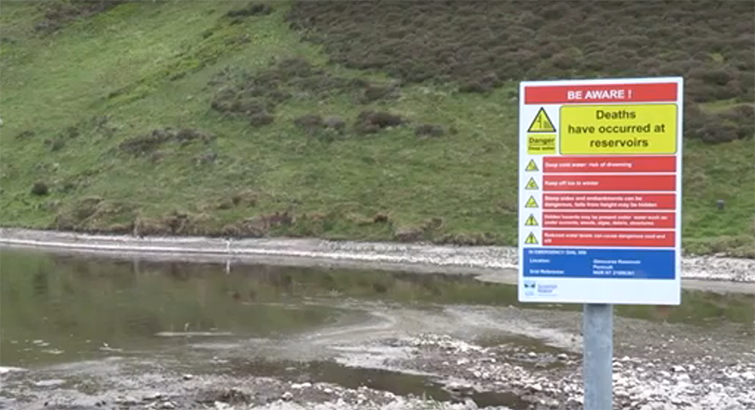 Reservoir Safety Video
In this short video, Peter Farrer, Chief Operating Officer at Scottish Water, explains the risks of drowning in reservoirs. We want people to enjoy Scotland's beautiful reservoirs and to be aware of the dangers of entering the water.
Swimming in Reservoirs is Dangerous.
In the interests of public safety, we do not encourage swimming or diving in any of our reservoirs – whatever the weather.
There have been a number of fatalities at our reservoirs as a result of individuals swimming in them in recent times.
What Are the Dangers of Reservoirs?
Deep cold water, which can send the body into shock in seconds
Hidden water intakes - underwater pipework which takes water out of the reservoir
Steep, slippery banks
Stone or concrete structures below and above the water
Strong currents
Underwater plants such as reeds, which can trap swimmers
Remote locations with poor or no mobile phone coverage, and lack of immediate assistance
Risk of injury or drowning in freezing water from winter sports, eg. ice skating
Individuals visiting any of our reservoirs, or seeking information about group access, facilities, restrictions and best practice for boating and fishing, are urged to read our 'Take Care Be Aware' Leaflet which can be found in the Document Hub
If you have any comments or concerns please contact our Customer Helpline on 0800 077877.
More information on reservoir safety is available from the following organisations:
The Royal Society for the Prevention of Accidents
Royal Life Saving Society Scotland
Take Care Be Aware
Download from our Leaflets page in the Document Hub
Leaflets