Scottish Water is offering free saving water devices from Save Water Save Money to all of our customers, to help you save water, energy and money. Not all devices are suitable for every home so please read the product descriptions carefully to select the right devices for you. All devices come with fitting instructions.
Regulated Showerhead - This showerhead regulates flow to 8 litres per minute. It is easy to fit, taking less than one minute to unscrew your existing shower hose and replace. This device could help save a family of four up to £70 a year on their energy bill, as well as 450kg CO2. Please note: This showerhead is not compatible with electric showers, which are usually already more efficient than gas showers.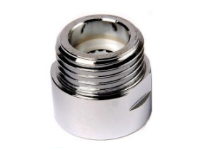 Shower Regulator - If you would like to keep your existing showerhead, why not try this shower regulator. Just like the showerhead, it regulates flow to 8 litres per minute, and will provide you with the same water and energy savings. Once fitted, you won't even know it's there. Please note: This regulator is not compatible with electric showers, which are usually already more efficient than gas showers.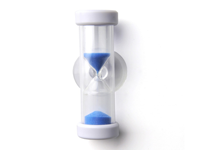 Shower Timer - Challenge yourself to have a shorter shower with this four minute shower timer. If a family of four all spent one minute less in the shower, they'd save more than 9,600 litres a year and up to £28 a year on their energy bill, as well as 150kg CO2.*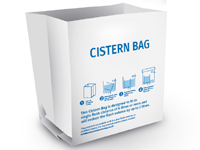 Cistern Displacement Device – This device is simply submerged in your toilet cistern saving up to 1.2 litres every time you flush. It works well in six litre capacity cisterns and above, including slimline nine litre cisterns. This can help reduce your carbon emissions by 55kg CO2 per year. Please note: You must be able to access your cistern to install the device and this device is not suitable for dual flush toilets.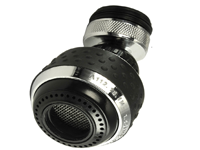 Kitchen Tap Aerator – Regulates tap flow to 8 litres per minute compared with standard 12 litre flow rate. The multifunctional swivel attachment fits onto your existing mixer tap and reduces the flow rate without affecting the wash and rinse effect. Pull to create an aerated anti-splash flow or push up to activate a spray. This can help reduce your carbon emissions by 450kg CO2 per year. Please note: This tap aerator is suitable for mixer taps with female housing 22mm, and male housing 24mm.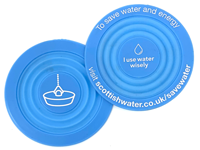 Universal Sink Plug – Do you have any missing or leaking sink plugs? Use this universal sink plug to fill the sink with only the water you need. This can help save up to £28 on energy bills and 150kg CO2 per year (from preventing hot water leaking down the drain when washing up). Suitable for most kitchen/bathroom sinks.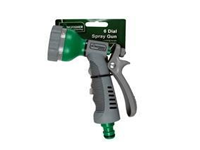 Garden Hose Gun – Fitting a spray-gun attachment to your garden hosepipe allows you to control where and when you use water outside. It comes with 6 useful settings from Jet to Mist to help manage your water usage by applying only what you need. To save even more water, always consider using a watering can first or using a bucket and sponge to wash the car.
*Savings based on hot water savings from a four-person family in an average gas heated house installing an eco-shower head, taking 1 min off each shower, fitting a cistern displacement device and using a universal plug. Assumes a gas price of 3.74p/kWh. Correct as of April 2019 from the Energy Saving Trust.
How we will use your data
You will be redirected away from the Scottish Water website to Save Water Save Money's webform where you can order your water saving pack. Save Water Save Money will share your data with Scottish Water so we can monitor uptake of the various devices on offer. Scottish Water is committed to protecting your data and information.

Our privacy notice explains how Scottish Water uses personal data collected by Scottish Water. It also sets out our commitment to safeguarding personal information held about individuals - it does not apply to information we hold about companies and other organisations. Any personal data you give to Scottish Water will be processed in accordance with current UK Data Protection laws.

Please find our Personal Data Policy within our 'Key Publications' page on our website.
Water Saving Devices
Order your water saving devices here
Click here