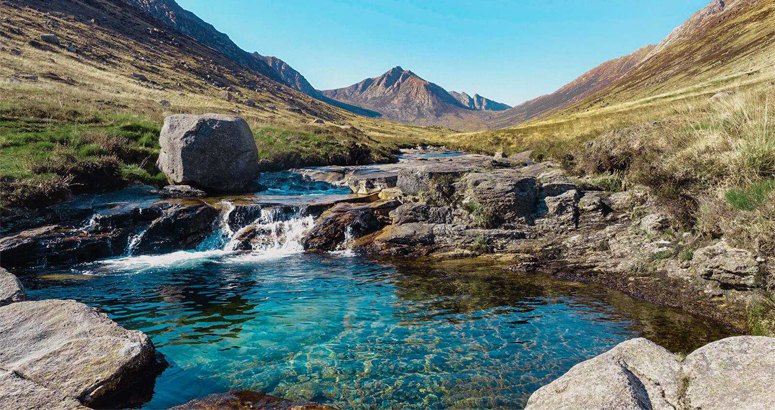 Saving water on Arran
Photo taken by Kerr Rankin, Scottish Water employee on Arran.
Why are we running this campaign on Arran?
Even though it seems like it rains a lot in Scotland, it doesn't always rain where we need it to. Water levels can still drop quickly during prolonged dry spells! With climate change, rainfall patterns will become less predictable, and the risk of these prolonged dry spells is increasing.
During the hot, dry summer of 2018, Arran experienced an increase in demand for water of up to 30%.

Water Saving Advice
Simple steps you can take to help save water in and around your home
Click here
As a result we had to transport more than 25 tankers of water from the mainland by ferry, containing around 750,000 litres of water, to ensure residents and businesses on Arran had a constant supply of high quality drinking water.
Saving water all year round helps to maintain local water supplies and improve resilience to dry spells as well as helping protect our precious natural resources.
Hot water use makes up a fifth of the average household energy bill, so saving water helps save energy and money too, all while helping to reduce Arran's carbon footprint.
We're here to help Arran householders save water, energy and money.
Each individual uses approximatively 165 litres of water every day in and around the home. Arran has a population of around 4,500 people using more than 270 million litres of water per year.
If everyone on Arran made small changes to reduce their water use by just 5%, then together we could save around 13 million litres of water per year. Enough to supply a few Arran villages with water for an entire year!
By making small changes and installing water efficient devices, we estimate that a family of four on Arran could save up to
36,000 litres of water and £100 off their energy bills a year!*
*Savings based on family four using an immersion heater on an off-peak electricity tariff. Energy saving measures include using an eco-shower head, taking one minute off each shower, installing a cistern displacement device and using a universal plug. Assumes electricity price on off-peak tariff at 10.748p/kWh. Figures correct as of May 2020.
Who are we working with?
Scottish Water is working in partnership with Home Energy Scotland and Arran Eco Savvy to deliver water saving advice and devices to Arran residents this summer. We will be hosting a number of online activities so there are lots of ways to get involved.
Fun Facts 
Most of the southern half of Arran, from Brodick on the east coast to Blackwaterfoot and Machrie on the west coast, is supplied by groundwater. Lochranza's supply is taken from Gleann Easan Biorach and Corrie and Sannox's from the Corrie Burn.
The Doctor's Bath contains 8,500 litres of water - reducing Arran's water use by 5% would save enough to fill the Doctor's Bath over 1500 times!
How can you get involved?
Play your part by getting involved in any of the following fun and interactive activities.

1. Order your FREE water saving pack
We are distributing free water saving packs to people who stay on Arran to help them save water, energy and money and keep the water in Arran's natural environment.
Call Home Energy Scotland on 0808 808 2282
Sign up for one of Home Energy Scotland's online workshop sessions
Order the water saving devices before 15 July and get a pack of sunflower seeds added into your pack – Sunflowers don't need a lot of water to grow so you can keep your garden beautiful while helping to save water!


2. Sign up to one of Home Energy Scotland's online water saving workshop sessions to get more water saving advice!
Dates TBC – check back here soon!
3. Enter our water butt competition
Check out the Arran Eco Savvy Facebook page to enter our competition for a chance win a FREE water butt for your garden! There will be a competition running each month in July, August and September. Click here for terms and conditions.


4. Share your water saving tips with friends and family to encourage more water saving!

Home Energy Scotland is the free and impartial energy advice service funded by Scottish Government and managed by Energy Saving Trust.

Arran Eco Savvy is a community, environmental and educational charity based on the Isle of Arran SCO45785; working to identify, create and accomplish carbon cutting environmental projects that benefit the Island community, increase sustainability and support the implementation of lower carbon norms in the community.