Scale of Sewer Flooding Project Revealed
23 January 2023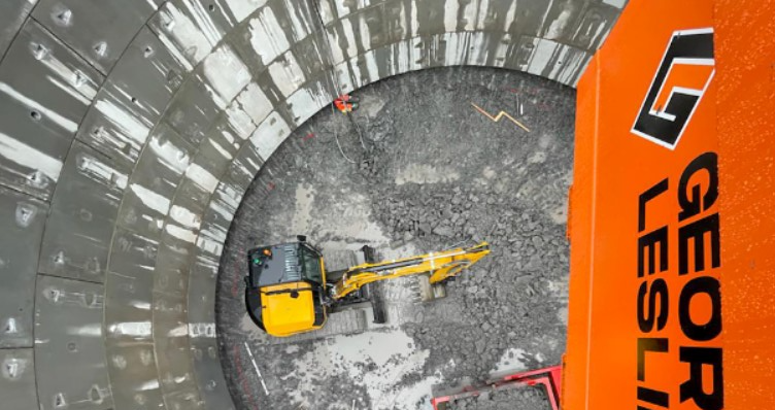 Storm Water Storage
The tank is big enough to hold the equivalent of half an Olympic size swimming pool of water - 1.6 megalitres
Scottish Water's multi-million pounds project to tackle sewer flooding in Giffnock, Glasgow is approaching a key milestone.
Excavation of a giant storm water storage tank is nearly complete after five months of digging and pouring of concrete.
At nearly 13 metres wide and 13 metres deep it can hold the equivalent of more than half an Olympic size swimming pool – 1.6 megalitres - of water during periods of prolonged rainfall.
Georgina Reid, Corporate Affairs manager in the west, said: "This really is an impressive piece of engineering and is the key to helping alleviate internal and external sewer flooding in the area.
"When you see the sheer scale of the storage tank you get an appreciation of the amount of storm water that will be held back from the local sewer network during periods of heavy rainfall.
"Our contractor George Leslie Ltd has done a great job so far under challenging conditions and is working hard to deliver this much needed project on time."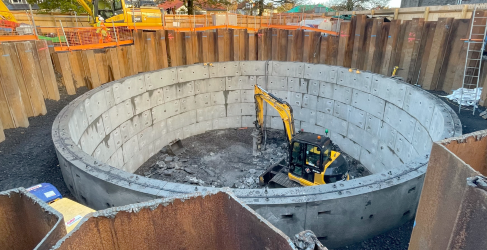 Digging the storm water storage tank November 2022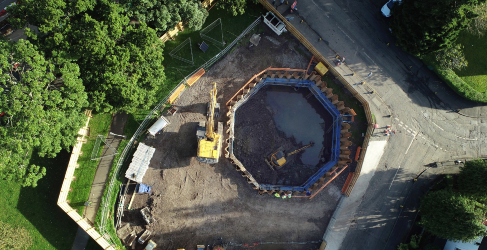 Sheer scale: Storm water storage tank from above
Once work on the storage tank and its associated main spill chamber has been completed, the complex job of installing and connecting several hundred metres of new sewer pipes will begin.
The current layout of traffic management - where access to Braidbar Farm Road is from the Merryton Avenue side – will be in place until March 2023. Access will then be in the direction of Giffnock Police Station along Braidholm Road.
All temporary traffic management plans have been agreed in liaison with East Renfrewshire and Glasgow City councils.
Conor McDermott, Project Manager for George Leslie Ltd said : "Approaching the half-way mark of this project, we are pleased with the progress and happy to report we are currently on schedule for completion in July 2023.
Georgina Reid said: "We are acutely aware of the disruption and inconvenience some residents have been experiencing and we have worked closely with them to address any issues.
"We would like to thank everyone for their continued patience and understanding while we work to complete this major investment as soon as possible.
"Our team has worked hard to build a positive relationship with local residents and will continue to help mitigate issues where they may arise."
The overall programme of works began at the end of June 2022 and is anticipated to take around 13 months for completion.