Traffic Restrictions Ease as Repairs to Burst Pipe Complete
26 January 2023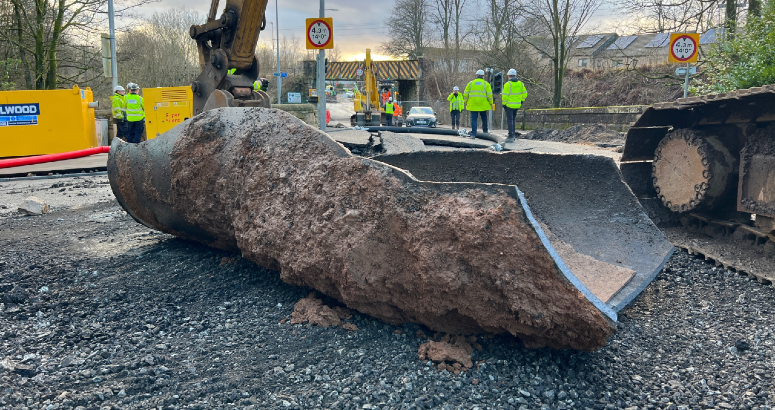 End of an Era
The section of pipe was laid a year after Queen Victoria opened the Loch Katrine Water Project in 1859.
Scottish Water has completed repairs to a major burst on a water main on Auchenhowie Road, Milngavie.
Teams have worked round the clock to fix the burst 36-inch water main which affected water supplies to 100,000 properties across Glasgow on Tuesday night.
Following a major excavation to remove the huge Victorian pipe, the new section of pipe has now been installed and work has begun to recharge this section of network.
Due to the significant damage caused to the road and surrounding area, the focus will now be to carry out the substantial reinstatement and clean-up of the affected area.
Traffic management will be in place for approximately two weeks while this work is carried out. Drivers are being warned that Glasgow Road will remain closed, with access only available on the north side via Strathblane Road and on the south side via Burnbrae Roundabout.
Auchenhowie Road re-opened under three-way traffic lights on Friday afternoon (27 Jan). Local diversions are in place and road users are urged to follow all signage. Some delays can be expected during peak times.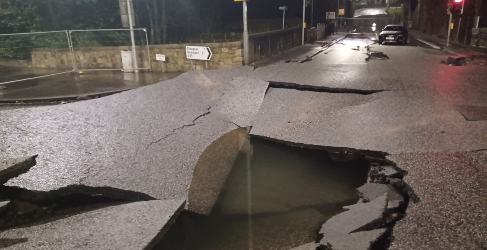 The force of the water tore up the road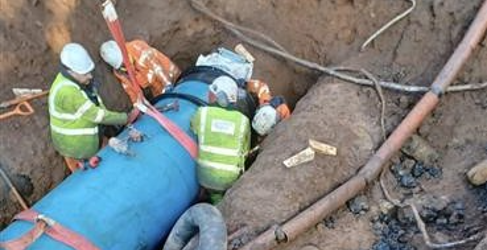 Engineers install new section of water main
Georgina Reid, Scottish Water Corporate Affairs manager for the west, said: "We are delighted that our teams have managed to complete the repair and can now focus on reinstating the damage and getting the roads open as quickly as possible.
"We are acutely aware how busy this stretch of road is, and we sincerely apologise for the inconvenience this has caused. "This has been a significant incident and we really appreciate the patience and understanding shown by our customers while we worked to fix it.
"Scottish Water operatives have worked through the night with Scottish Power Energy Networks (SPEN) due to the presence of high voltage power cables in the area of excavation, with final repairs being completed early this afternoon.
Georgina added: "Our teams will work through the nights and weekends to carry out these reinstatement works, and we estimate that this could take up to two weeks to finish and remove the traffic diversions.
"This may mean some local residents may notice increased activity and noise during the day and night and we are sorry for the further inconvenience and disruption that this may cause."
On Tuesday, around 250,000 customers across Glasgow were affected when the 163-year-old water mains burst. Scottish Water engineers were quickly on site to make the area safe and restore supplies to customers as quickly as possible. The water main takes water from Loch Katrine to the Greater Glasgow area.