Iconic Dumfries woodland location is home to new water refill tap
23 February 2023
Scottish Water has installed its latest Top up Tap in Mabie forest, near Dumfries.
The bright blue tap is the second to be installed in Dumfries and Galloway.
The tap will encourage visitors to the forest to refill their reusable bottles when they are on the go, helping to reduce the risk of single use plastic bottles littering the area.
A group of youngsters and their pets came down to check out the new tap which is located right next to a popular play park.
Scottish Water and Forestry Land Scotland staff were on hand, giving out free refillable water bottles to passers-by, encouraging them to try out the new touch free design.
Mountain bike instructor and guide, Liz Peacock, owner of local company Trail Skills, said:
"This is amazing. We are trying to encourage visitors to not buy disposable water bottles, so having the refill point will be great."
As part of Scottish Water's Your Water Your Life campaign, the taps will help keep visitors hydrated on the go.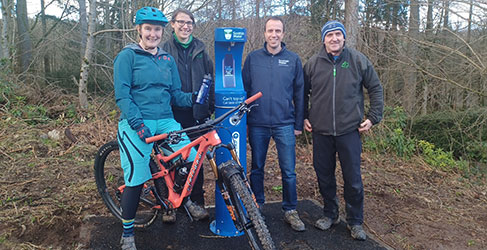 Liz Peakcock, Trail Skills coach, Katharina Koehler, Forestry &  Land Scotland, Scott Fraser, Scottish Water and Neill Whitelaw Forestry & Land Scotland attended the launch
The tap can be found in the main car park across from the playground
Scott Fraser, Scottish Water's Corporate Affairs Regional Manager, said:
"We are delighted to launch our second tap at a Forestry Land Scotland site. Mabie is a brilliant destination for visitor's who can now ditch their single-use plastic water bottles and top up straight from the tap."
Forestry Land Scotland Recreation Ranger, Katharina Koehler, said;
"The Top-up-Tap is a great addition to Mabie. With amazing wildlife, walking and mountain bike trails, and a fantastic playground, there are plenty of thirst-making activities for the 100,000 visitors that come here every year.
"It's a great way to help visitors quench their thirst and help cut down on plastic waste."
2022 was a great year for Scottish Water's network of taps which dispensed the equivalent of nearly two million bottles worth of water. Over 2023, the company aims to install more taps, bringing the total to 100 by the end of the year.
Mabie forest is located 5 miles South of Dumfries and is home to one of the world class 7 Stanes mountain bike trail centres.