Scottish Water Launches Biggest Ever Apprenticeships Drive
28 February 2023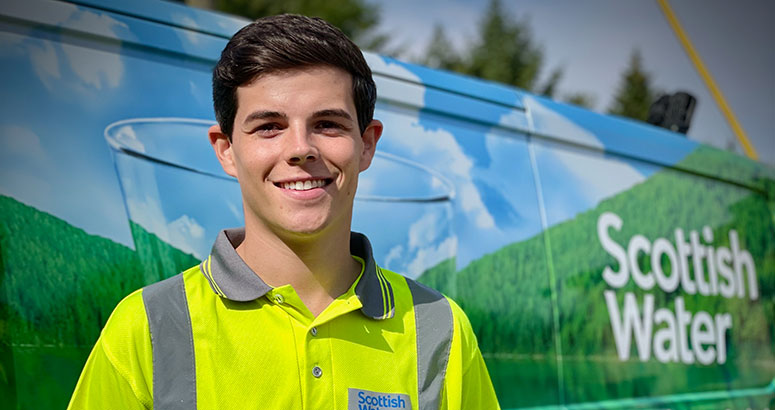 Alex Cleland
Alex joined as a Modern Apprentice in 2018 and has just completed his fourth year
Scottish Water is starting a major recruitment campaign to hire 60 apprentices across the country.
The utility company is launching its biggest ever drive for Modern, Technical and Graduate Apprentices by opening applications to hire 60 trainees into positions right across Scotland, from Castle Douglas in the south up to Shetland in the North.
Opportunities are available in Project Management, Engineering, Water Treatment, Wastewater Treatment, Electrical and Mechanical, Science, Property & Estates, and Business Administration.
The launch of the 2023 apprenticeships campaign has been timed to coincide with Scottish Apprenticeship Week 2023 from March 6 to 10.
Scottish Water is one of only eight businesses, and the only utility, in Scotland to have achieved the coveted Investors in Young People – Platinum standard, making the company a leading ambassador for employing young people.
This apprenticeship campaign underlines Scottish Water's commitment to the youth talent pipeline where the theme of this year's week is that apprenticeships are unlocking potential in people and businesses.
Linda Brown, Strategic Resourcing Manager at Scottish Water: "We are launching our 2023 apprenticeships campaign during SAW 2023, the perfect time to highlight how apprentices and organisations benefit from these trainee programmes.
"On our programme, we'll help apprentices reach their full potential by giving them first-class training and mentoring. We'll invest in their development, and they'll earn nationally recognised qualifications.

"Our apprenticeships are an example of Scottish Water's purpose in action – to support a flourishing Scotland. They enable people from diverse backgrounds and abilities to gain work and life skills, whilst earning and thriving in their job. They also ensure that we develop the skills Scottish Water, and the wider Scottish economy, will need in the years to come. A true win: win."
Andrew Hamilton, Specialist Consultant (Recruitment), added: "At Scottish Water we are committed to youth employment, development and education and we place a lot of emphasis on developing the skills and people that a sustainable water industry in Scotland needs for the future.
"Our apprenticeship programmes, for example, help to ensure we have specific skills in areas such as water or wastewater treatment, engineering, laboratory science, electrical and mechanical engineering and trainee management.
"These programmes will enable us to maintain our extensive operational infrastructure for many years to come. We also have extensive graduate programmes which are essential in developing our future management capability and some very specialist water industry related skills.
"We are really excited about the launch of our 2023 campaign and would encourage everyone to apply."
Our 2023 Apprentice campaign is open to all. There is no upper age limit to these programmes. The opportunities available will be on a fixed-term basis ranging from 18 months to five years and they come with a generous starting salary and an attractive list of additional benefits.
Candidates can apply at https://scottishwater.wd3.myworkdayjobs.com/External_Careers from March 6 to April 2.
More information on life as an apprentice at Scottish Water can be found at
https://www.scottishwater.co.uk/about-us/careers/modern-apprenticeships
Throughout March, the Scottish Water Recruitment team will be keeping candidates up-to-date on the company website and via our dedicated Jobs pages on Facebook, Twitter and LinkedIn. On there, candidates can find out more about the jobs on offer and watch videos from our current and previous apprentices to see how their career journey relates to them.
Look out for the hashtag #UnlockPotential, #ScottishWaterApprentices23
We will also be attending career fairs at Dynamic Earth, Edinburgh on March 9 and at the SEC in Glasgow on March 28 and 29. At these, we will be promoting our apprenticeship opportunities and providing further information to youngsters or parents about the jobs we have on offer.