Home Straight for Sewer Flooding Project
16 March 2023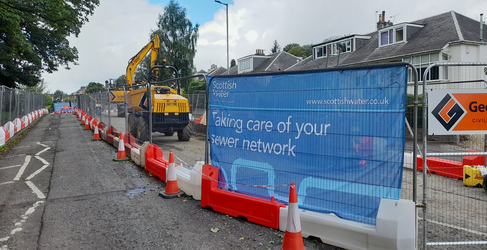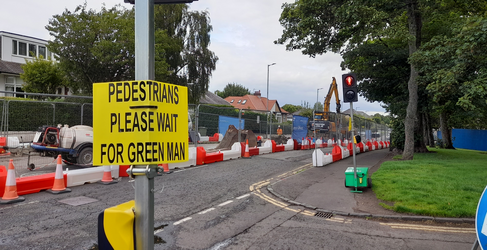 Our multi-million pound project to tackle sewer flooding in Giffnock, Glasgow is on the home straight with all major construction components close to completion.
Work to connect the new elements of the scheme – storm water storage tank and overflow pipe – with a new upgraded sewer network is now set to begin. The next phase will see traffic management arrangements changed.
From Monday 27 March 2023 access to Braidbar Farm Road will be from the direction of Giffnock Police Station along Braidholm Road.
Traffic lights will still be in operation at the junction of Braidholm Road and Braidbar Farm Road, however the lights at the Whitton Drive junction will be changed to a 'Give Way' sign
Georgina Reid, Scottish Water's Corporate Affairs manager in the west, said: "We are approaching the finishing line for this much-needed project.
"The main elements of the works are nearing completion and it is now all about joining them together.
"This will come as extremely welcome news to local residents, particularly those who have been impacted by the road closure and traffic management.
"They have coped extremely well with the disruption, and we would like to thank them for their continued patience and understanding."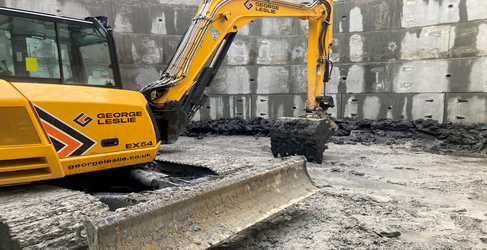 A giant storm water storage tank – at nearly 13 metres wide and 13 metres deep – capable of holding the equivalent of more than half an Olympic size swimming pool of water during periods of prolonged rainfall has been constructed.
The local sewer network has been upgraded and an overflow pipe, which directs excess water from the sewer network into the storm tank when capacity is exceeded, is being built.
Georgina added: "Tackling internal sewer flooding and the misery it causes is a key priority for us as we tackle the tripe challenge of climate change, ageing infrastructure and increasing demand.
"Scottish Water is committed to delivering a world class service for its customers and is investing millions of pounds across the country in projects like this that will deliver real improvements for communities.
"We can only thank the local community for working with us to deliver a project that will improve the lives of so many people."
Work began at the end of June 2022 and the work in Braidholm Road itself is on track to be completed by July 2023.
All temporary traffic management plans have been agreed in liaison with East Renfrewshire and Glasgow City councils.