Olympic star inspires young Angus swimmers
23 March 2023
Duncan Scott with some young swimmers in Forfar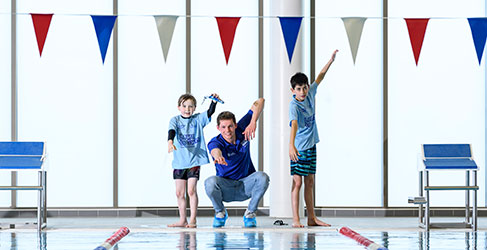 Duncan gives some top tips on swimming strokes
"The Learn to Swim Framework plays an absolutely crucial role in ensuring young people around the country are not only learning to swim in an enjoyable, fun atmosphere but that they learn a vital life skill and become safe, competent swimmers."

Duncan Scott
Olympic, World & Commonwealth Champion
Decorated athlete Duncan Scott celebrates 'Generation Swim' in Forfar
Young swimmers in Angus have taken part in a once-in-a-lifetime swim class with Olympic, World & Commonwealth Champion, Duncan Scott.
The swim star made waves with 116 local swimmers yesterday (22 March) at ANGUSalive in Forfar to celebrate the crucial work undertaken to provide a quality swimming programme, as part of the National Learn to Swim Framework - a partnership between Scottish Swimming and Scottish Water.
The event not only left the next generation inspired, it also gave passionate swimming teachers the chance to teach alongside one of the sport's greats, joining Duncan to teach vital life skills such as floating and treading water, as well as sharing top tips on a variety of swimming strokes.
Duncan Scott said: "ANGUSalive has done an excellent job in harnessing the amazing enthusiasm that Scottish children have for swimming and how important it is as a skill for them to learn.
"It was great to get to know some of the brilliant young swimmers in Angus and see lots of happy faces as these youngsters developed their skills in the pool with their friends.
"It is so important that children across all our communities get the opportunity to jump into the pool at a young age.
"The Learn to Swim Framework plays an absolutely crucial role in ensuring young people around the country are not only learning to swim in an enjoyable, fun atmosphere but that they learn a vital life skill and become safe, competent swimmers."
The swimming superstar added celebrity excitement to the event at ANGUSalive, which is one of 37 aquatic providers delivering the Learn to Swim scheme. The event came at a poignant time for ANGUSalive, which is in the midst of a major recruitment drive to fill swimming teacher vacancies.
Duncan Scott is joined in his ambassadorship for Learn to Swim by World Champion and Paralympic medallist Toni Shaw. Having such prominent athletes spearheading Scottish Swimming and Scottish Water's initiative has inspired more than 2550 children in Angus to get in the pool and increase their confidence.
As part of its commitment to helping children learn to swim, ANGUSalive began providing the Learn to Swim programme during the Covid pandemic. Since then, it has gone from strength to strength working closely with children to keep fit and healthy and make new friends, while stressing the importance of water safety.
Gail Mallarkey, Children and Families Physical Activity Lead at ANGUSalive said: "It was a pleasure to welcome such an excellent role model like Duncan Scott to ANGUSalive. His presence and brilliant attitude around the children inspired so many swimmers and showcased the importance of being safe and having fun in the water."
The success of ANGUSalive has been showcased as an example of the positive impacts the Learn to Swim Framework can have on young swimmers across the country.
Euan Lowe, CEO of Scottish Swimming, said: "It is a priority to get children comfortable and safe in the water. The more familiar they are with the aquatic environment the better. We hope that having Duncan leading from the front will inspire the next generation to embrace opportunities in the water, whether that includes swimming competitively or just enjoying water-based exercise in their daily lives.
"We are very excited that youngsters in Angus got the opportunity to learn alongside one of the country's best ever swimmers, as we keep pushing to get more children in the pool in communities across Scotland."
The National Learn to Swim Framework has already provided lessons to more than 100,000 children and aims to reach another 100,000 by 2025.
Brian Lironi, Director of Corporate Affairs with Scottish Water, said: "We want children and young people to enjoy Scotland's swimming pools and miles of coastline, lochs, and rivers safely. Participating in the Learn to Swim programme gives them the perfect start for doing so.
"Duncan and Toni's involvement in the programme which supports children across Scotland's communities demonstrates the importance of water safety and enjoyment to the lives of all people in Scotland, as we seek to keep driving participation as far as possible."
Learn to Swim is a National Framework committed to creating supportive and quality environments in which children can learn to swim regardless of their age, ability, or skill level. It aims to develop competent swimmers, as well as encouraging youngsters to adopt a healthy and fulfilling lifestyle with sport and fun at its heart.
For more information on the Learn to Swim programme, visit: learntoswim.scot
For more information on Angus Alive, visit: anguslive.scot