Scottish Water Among Country's Biggest Businesses to Help Launch Carbon Reducing Hub 
27 March 2023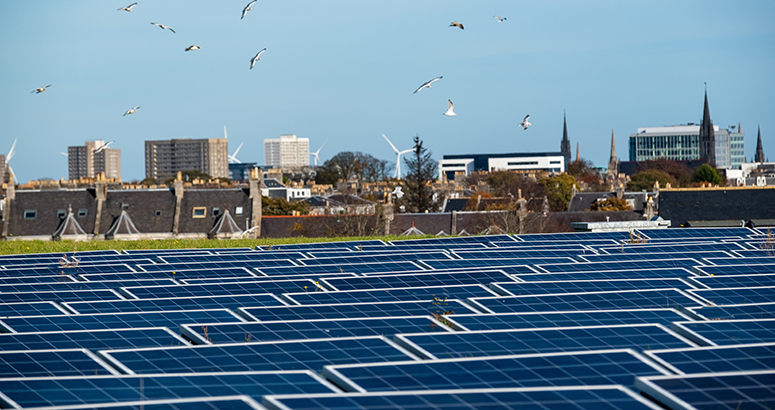 "We are already using state-of-the art techniques and products to help drive down our own emissions across our investment programme which is bringing real green, time and cost benefits to our customers and look forward to sharing advice and ideas as to help tackle this generation's biggest crisis."

Brian Lironi
Director of Corporate Affairs at Scottish Water
Scottish Water is among a group of businesses from across Scotland to join forces to launch a new climate action initiative to accelerate the transition to a net zero future.
Jointly funded by the Scottish Government and members of the Scottish Business Climate Collaboration (SBCC) the new Climate Action hub will support small and medium-sized enterprises (SMEs) to better understand climate risk and help them develop decarbonisation plans of their own.
SMEs can access a free-to-use platform, being delivered by Zero Waste Scotland, which features a range of resources including e-learning modules on topics ranging from climate science to carbon emissions in business practices.
The hub offers them the opportunity to learn more about emissions associated with their own operations, including the goods and services they supply, and access advice on ways for them to significantly reduce their emissions and boost cost savings. They will have access to a dashboard to plan and track their own carbon reduction plans.
Brian Lironi, Director of Corporate Affairs at Scottish Water, said: "We have already published our ambitious plan to be net zero by 2040 and are pleased to be among a number of organisations to come together to help other businesses plan and deliver their own pathways to reduce emissions.
"We are already using state-of-the art techniques and products to help drive down our own emissions across our investment programme which is bringing real green, time and cost benefits to our customers and look forward to sharing advice and ideas as to help tackle this generation's biggest crisis."
Other businesses who have come together to create the SBCC come from a range of sectors and include Aggreko, Diageo, EY, FirstGroup, Bank of Scotland, Wood Group and ScottishPower.
To register for the hub go to please visit
https://sbcc.group/
To see our Net Zero Routemap, click on the link below: