Water safety tops the agenda at national swim summit
05 May 2023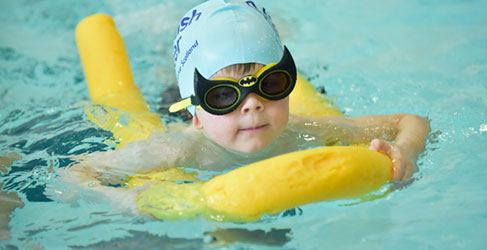 Youngster learning vital swimming skills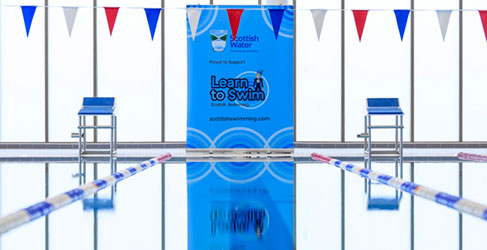 The summit was held in Perth
"Teaching kids vital water safety and swimming skills at young age will equip them for a lifetime of enjoyment, whether that's in the pool, on the beach or on loch shores"

Brian Lironi
Director of Corporate Affairs, Scottish Water
Scotland's Swimming leaders have dived in to discuss ambitious plans to ensure that Scotland's youngsters continue on their trajectory of becoming a safe and competent generation of swimmers.
24 Scottish Leisure Trusts and aquatic providers gathered in Perth to participate in a National Framework Day summit last week [26 April] to discuss the Learn to Swim National Framework, a partnership between Scottish Swimming and Scottish Water that supports the delivery of swimming lessons across the country.
From drowning prevention to teacher recruitment, Trusts and providers assembled to discuss the Learn to Swim Framework's ambitious plans to continue to create an aquatic generational legacy for Scottish youngsters.
Euan Lowe, CEO at Scottish Swimming, said: "From Orkney to the Borders, it was great to see so many different groups collaborating on a remarkable scale to achieve something very special for the next generation of young Scottish swimmers.
"We all share the belief that swimming should be accessible to everyone, regardless of background, location, and age. Our providers and partners realise this goal day by day, through their commendable engagement to deliver the teaching of this vital life skill.
"Learn to Swim's National Framework Day in Perth was an invaluable opportunity for us all to outline how we can drive the programme to even greater heights by placing our strategic priorities of safety and enjoyment at the heart."
The National Framework Day is a twice-yearly summit held in various venues across Scotland, providing a platform for key stakeholders and providers to evaluate and plan strategic aims and delivery of the Learn to Swim programme.
The morning of the event focused on the value of swimming and its impact on safety, health and communities. Throughout, delegates heard about how swimming can change lives for the better by safeguarding physical and mental health, teaching children a vital life skill which has long-lasting health benefits and by keeping communities physically and socially active.
The afternoon provided an opportunity for the thought leaders to share best practice and discuss how children are rewarded and recognised as they progress through stages of the Learn to Swim Framework. Important discussions were also had around the aims and challenges around the recruitment and retention of swimming teachers.
Brian Lironi, Director of Corporate Affairs with Scottish Water said: "When it comes to swimming, safety and enjoyment are at the top of the list. Particularly as people flock to beaches and lochs with warmer summer weather approaching, we want all people in Scotland enjoy the water safely and responsibly.
"Teaching kids vital water safety and swimming skills at young age will equip them for a lifetime of enjoyment, whether that's in the pool, on the beach or on loch shores.
"The National Framework Day allowed our participants to come together to take stock of where we've got to, and evaluate how we can progress effectively to get even more children into the pool to make friends, get fit and improve Scotland's water safety."
Learn to Swim is a National Framework committed to creating supportive and quality environments in which children can learn to swim regardless of their age, ability, or skill level. It aims to develop competent swimmers, as well as encouraging youngsters to adopt a healthy and fulfilling lifestyle with sport and fun at its heart.
The Learn to Swim programme is hosted by over 170 pools in Scotland, delivered by 37 Leisure Trusts and aquatic providers across the country. The scheme has provided lessons for over 100,000 children, and aims to deliver another 100,000 by 2025.
For more information on the Learn to Swim programme, visit: Learn To Swim